Sex and the City Season 3 Episode 10: "All or Nothing" Photos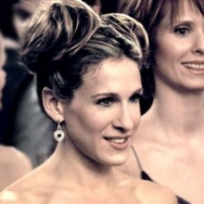 Added:
Displaying 1 photo
Around the Web
Want more Sex and the City?
Sign up for our daily newsletter and receive the latest tv news delivered to your inbox for free!
Aidan: Carrie, I need to ask you something?
Carrie: Okay.
Aidan: I don't want to be paranoid here, ok, but you took Pete for a walk, and we both know you're not big on the dog walking. Now, I can smell something, are you cheating?
(Carrie breaths deep)
Aidan: I can smell smoke on you.
Carrie: Oh!
Aidan: You're smoking again aren't you?
Carrie: Yea, yea, I am. (thinking to herself) It was the truth...
Aidan: Are you going to quit?
Carrie: I really want to (thinking to herself) and that was too.
Trey: Ladies, may I sweep my bride away?
Miranda: She's all yours.
Carrie: (voice over) It was then that each of us realised that we didn't have it all. Because we no longer had Charlotte.