Venture Brothers Season 4 Episode 2: "Handsome Ransom" Photos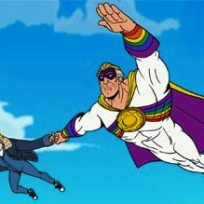 Added:
Displaying 1 photo
Around the Web
Want more Venture Brothers?
Sign up for our daily newsletter and receive the latest tv news delivered to your inbox for free!
The Monarch: Time to pay the piper, Venture, for admitted to my mega pillar silky issue will destroy the only living proof you've had sex, unless you give me ten million dollars
Dr. Venture: Since when did you start arching for money?
The Monarch: How long have we been trying to kill this schmuck, ten, twenty years?
Dr. Girlfriend: I dunno, since Marky Mark had a funk bunch?
The Monarch: Do you want to know how to really hurt Venture?
Dr. Girlfriend: Not really, but as a wife I try and be supportive
The Monarch: In the pocketbook!