Try A Little Tenderness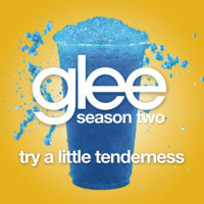 As Heard On:
Try A Little Tenderness Lyrics
Oh she may be weary
And young girls they do get wearied
Wearing that same old shaggy dress
Yeah yeah
But when she gets weary
Try a little tenderness, yeah yeah
Oh my my, huh

You know she's waiting
Just anticipating
A thing that she'll never
Never, never, never, never possess, yeah yeah yeah
But while she's there waiting
And without them
Try a little tenderness
That's all you gotta do

It's not just sentimental, no no no
She has her grief and care
Yeah yeah yeah
But the soft words
They are spoke so gentle, yeah

It makes it easier
Easier to bare, yeah

You won't regret it, no no
Young girls they don't forget it
Love is their whole happiness, yeah
But it's all so easy
All you've gotta do is, man
Hold her where you want her
Squeeze her, don't tease her
Never leave her, get to her
Just try, try a little tenderness, yeah yeah yeah
You got to know how to love her, man
Take this advice, man
You got to squeeze her
Don't tease her, never leave
You got to hold her
And brother, something else
Try a little tenderness, yeah yeah yeah yeah
You've got to tenderness, now, uh
I tell you, don't lose her, no no
You got to love her, tease her
Don't leave her
Got to try, now now now
Try, try a little tenderness, yeah
Watch the groove
You got to know what to do, man
Take this advice
You gotta love and squeeze
Don't tease my baby
Love her, lord...
****** Listen on
iTunes
******
[to Kurt] You know, these Mounds bars are delicious, but you have to eat them. If you just hold them in your hand hoping that you might get to eat them one day, they're going to melt and you'll look like somebody just pooped in your hand. Don't let waiting for things to maybe work out with Blaine turn you into the guy who looks like somebody just pooped in their hand.

Brittany
Blaine: Where's the bed?
Brittany: I removed it because when I imagined you two having sex I imagined a U-haul mounting a moped.