Bates Motel Episode Guide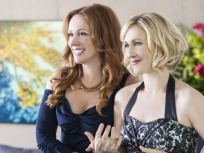 Norma makes a new alliance while Norman becomes enamoured with a townie girl on Bates Motel.
Norma attempts to distract Norman when he becomes obsessed with Miss Watson on Bates Motel.
In the Bates Motel season 2 premiere, Norman struggles to deal with Miss Watson's death.
Norman asks Emma to the dance and she agrees to go with him on Bates Motel.
Emma takes a trip while Dylan and Bradley connect with one another on Bates Motel.
Norma comes across a stranger with a mysterious past while Dylan decides to head off on a road trip on Bates Motel.
As Norman has issues trying to understand women, Norma receives her first guest at the Bates Motel.
What will Norman do when Dylan asks him to move in on Bates Motel.
Norman and Emma's investigation lead them to uncover a shocking discovery on Bates Motel.
Circumstances cause Norma to grow more suspicious of her neighbors on Bates Motel.