TV Fanatic Works Better with Prime Instant Video
That 70's Show Episode Guide
Eric loves having Hyde as a brother when he does all the chores, but begins to resent him when his parents prefer Hyde.
The gang goes Skinny dipping. After Hyde's mother runs away with a trucker, Hyde moves in with the Formans. Bob likes one of Midge's feminist friends.
While driving his grandmother home, Eric tells her it wouldn't kill her to be nice and she drops dead. Eric believes he killed his grandmother.
Hyde meets a female version of him that tries to convince him to move to New York; Kelso and Red make smaller paddles for Pong.
The gang paints a giant pot leaf on the water tower, and Kelso falls off trying to fix it.
The gang goes to see Star Wars and is blown away. Red asks Eric to hang out with his boss' son.
Prom night is coming and Eric books a hotel room as part of his plan to do it on the big night.
It's career day and the kids must spend the day working with the parents.
With no one else to tell, Jackie confides in Eric that she thinks she may be pregnant. Eric turns around and tells Donna.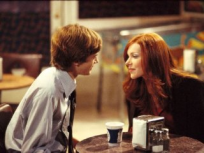 Valentine's Day is coming up, so Eric asks Donna out on their first official date. Donna is forced to cancel a study date with Hyde.