Jim Halpert Videos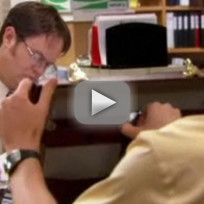 Added:
Displaying 1 video
Around the Web
Want more The Office?
Sign up for our daily newsletter and receive the latest tv news delivered to your inbox for free!
I wish there was a way to know you're in the good old days before you've actually left them.

Andy
Robert: You want a three and a half day weekend for Columbus Day?
Andy: Yes I do.
Robert: And you are aware Columbus and his legions committed genocide against an entire civilization of Native Americans?
Andy: I don't care.