Glee Season 5 Episode 5: "The End of Twerking" Videos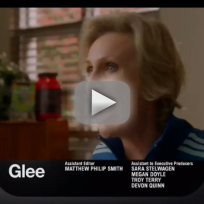 Added:
Displaying 1 video
Around the Web
Want more Glee?
Sign up for our daily newsletter and receive the latest tv news delivered to your inbox for free!
Will: I hate to say it but I think as long as you keep being yourself, your life is probably going to be a constant string of 'don't belongs'.
Unique: I know. I should probably start getting used to it.
Will: No, no. You should never get used to it. All great changes come from people who refused to get used to what was accepted but wasn't right. Slavery, gay rights, New Coke.
Rachel: Okay, you know what, Kurt? You've become boring. You go to class, and then you come home, and you eat all this food and watch your stories, and you Skype with Blaine, and it's not even sexy Skyping. I know this because you just go to sleep. Same thing every day.
Kurt: I change up my afternoon smoothie occasionally.