Wondering what Brett Asa "Ace" Young has been up to since he was voted off the fifth season of American Idol earlier this year?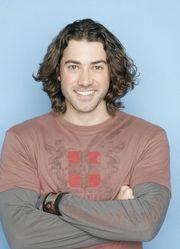 "I've been kind of hiding and not doing it successfully [laughs] and working on my own music," he said, giving an impromptu interview as he attended the
Pirates of the Caribbean
premiere.
"I went to Rochester, New York for like three days. I have a friend there that I write with and the moment. I got there and I went out to a club. My fans found out I was there and the club holds 1,500 people and they normally have 500-600 people there at a time. It was packed and there were 2,000 people outside that couldn't get in. It was surreal, but cool," Young said.
The 25-year old Colorado native, who become fast friends with Chris Daughtry during their time as American Idol contestants, is also enjoying the perks of being famous.
"Six months ago, I was watching the first Pirates of the Caribbean over and over on DVD, and now they invited me to come see the second one with them," he said.
Ace won't have time for movie premieres when he goes on tour with his Idol buddies this summer. Winner Taylor Hicks and the talented competition he bested will be rolling through 60 U.S. cities in 90 days!
Matt Richenthal is the Editor in Chief of TV Fanatic. Follow him on Twitter and on Google+.