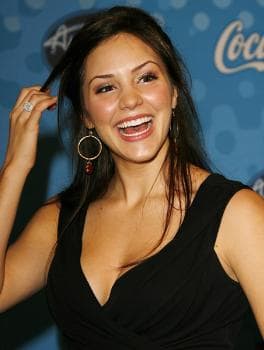 Having recovered from a severe bout of bronchitis and laryngitis, Season Five runner-up
Katharine McPhee
is finally set to join the American Idols Live tour today.
Doctors ordered the 22-year-old California cutie to rest her voice completely since she was diagnosed at the beginning of the month, but several public sightings of McPhee over the past few weeks have cast doubt -- probably unfairly -- on the legitimacy of her illness.
McPhee has been photographed several times with boyfriend Nick Cokas, who has been serving as her de facto interpreter. She also came under attack for her decision to attend a photo shoot on July 6, the day after the tour began without her.
Then it became known that Katharine, along with Cokas and others, is producing a new Broadway play entitled Red Herring, written by Michael Albanese.
Personally, we aren't sure what the big deal is. If Katharine is using her downtime to focus on her other interests, so be it. As for rumors that her condition was not as serious as she let on? Keep in mind, people, that McPhee battled an eating disorder for years, then sang her heart out on American Idol for months. That combination would certainly be enough to wreak havoc on one's vocal chords, wouldn't you say?
Matt Richenthal is the Editor in Chief of TV Fanatic. Follow him on Twitter and on Google+.