The Katharine McPhee sightings continue. Bouncing back from laryngitis and bronchitis, the budding starlet unveiled her ad campaign for Sexy Hair in New York on Wednesday, and this morning, co-hosted The View. Below is a picture of McPhee promoting the hair campaign, taken from People magazine.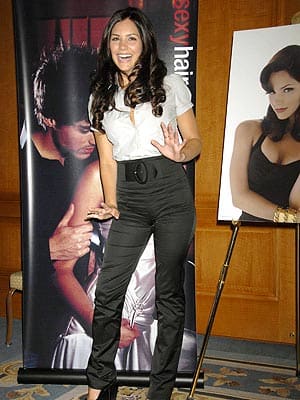 The songstress, 22, is probably en route to Pittsburgh at this moment to join the rest of her Season Five Idol counterparts on tour. While she's anxious to make her debut on tour, don't expect any of the soaring vocals that led her the final twosome in May -- yet.
"I just have to sing easily so I can get through the tour," McPhee said, adding that she's been giving her voice the needed TLC by guzzling water and getting plenty of rest. "[My vocal chords] are very sensitive. I bruised (them) because I was doing so much coughing."
McPhee told USA Today ignored all the scuttlebutt regarding her absence from the tour. She denies any tales of battles with the record label or her fellow contestants.
"During Idol, I did not read any negative things or positive things. But the thing about being home for three weeks and being sick: You get bored, and you go online," she said. "I did happen to run into some things like that. It's all baloney. I got sick, and I had some work I had to do on my chords. The important thing is that I'm back."
Matt Richenthal is the Editor in Chief of TV Fanatic. Follow him on Twitter and on Google+.