Who will rise to the top and be the next American Idol?
Who's "life is nothing but an awful song?"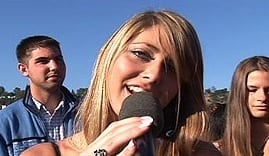 The auditions for Season 6 are officially underway, with many thousands of hopefuls from in and around Los Angeles, Calif., turning out Tuesday at the world famous Rose Bowl.
Thousands of Idol potentials showed up at the crack of dawn to take a stab at their luck of going to Hollywood.
Which, for them, wouldn't exactly be a big deal, at least geographically. It's right nearby!
In any case, our friends at TMZ.com were on location and caught up with a few American Idol wannabes, some of whom shared their talents -- or lack thereof -- for the cameras.
Who will make it through to the next round of auditions and get the chance to actually sing in front of Simon, Randy and Paula? Only time will tell, but you can get a sneak peak at some of the aspirants by following the link above!
Matt Richenthal is the Editor in Chief of TV Fanatic. Follow him on Twitter and on Google+.