Sometimes, a performance is so bad, it's good.
American Idol fans all know what we're talking about. It's not always the best that stand out in your mind. At least not exclusively. You have the obvious Carrie Underwood types who shine through and through, but on the other side of the Idol coin, there are those we remember for... other reasons. As in they stink.
Below, as compiled by AOL.com, are the 20 worst (best?) American Idol performances to date:
20. Nikki McKibbin: "Always Something There to Remind Me" -- The Season One finalist, despite subpar vocals, managed to last all the way to the end, finishing in third place behind Kelly Clarkson and Justin Guarini. Nikki's energy level and off-key singing made this an instant classic.
19. Constantine Maroulis: "Hard to Handle" -- Maroulis may have made the girls swoon during Season Four, but he turned in a clunker with this one, thanks to a series of bizarre screaming noises... probably made, ultimately unsuccessfully, in order to make Constantine Maroulis appear more "rock" and less "poser."
18. Tamyra Gray: "New Attitude" -- Tamyra Gray probably could've won the first season of American Idol. What happened? This cover.
17. Kellie Pickler: "Bohemian Rhapsody" (right) -- Although the judges loved it, Kellie's rendition of the Queen classic this Spring was dripping with Velveeta, if you know what we're saying. We're saying it was cheesy. Look at that jacket!
16. Anthony Fedorov: "Climb Ev'ry Mountain" -- Having the Idol gang sing show tunes was already a mistake (even frontrunners Underwood and Bo Bice couldn't pull it off), but A-Fed brought the pain to a whole new level.
15. Carmen Rasmusen: "Can't Fight the Moonlight" -- The Utah cutie's cover of the LeAnn Rimes hit in the wild card round proved why she was relegated to the wild card round to begin with.
14. Jon Peter Lewis: "A Little Less Conversation" -- Lewis' attempt at an Elvis song with his own ridiculous choreography made this one infamous.
13. Sylvia Chibiliti: "Didn't We Almost Have It All" -- Sylvia couldn't quite grasp the concept of diction.
12. Ace Young:
"Drops of Jupiter" -- His star falling fast,
Ace
tried to shoot back up in stature with this one. Young's mistake? His revealing of the "permanent scar" on his chest during the matching lyrics. Gag.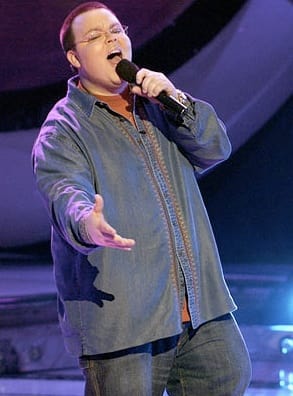 11. Scott Savol: "She's Gone" (left) -- The lovable, portly finalist from Season 4 first called out Bo and Constantine by calling himself "the real rocker in this competition," the proceeded to massacre the Hall and Oates classic. Awesome.
10. Kellie Pickler: "Bewitched, Bothered and Bewildered" -- By doing all three of the above to viewers, Kellie makes the list again! But we love her for it!
9. David Radford: "Crazy Little Thing Called Love" -- David's spasms around the stage and bizarre facial expressions made us cringe.
8. Lisa Wilson: "Come to My Window" -- The former Miss USA competitor should have stuck with beauty.
7. Rodesia Eaves: "Daydream Believer" -- Rodesia was an easily forgettable presence in Season 1 until she belted out this Monkees song. Shouting and screaming off-key, she finished it (and herself) off with one incredibly out-of-tune scream.
6. Kevin Covais: "Part-Time Lover" -- Kevin carried the tune alright, but his "Chicken Little" dance moves made everyone at home both laugh along with him and wonder why he was still in the competition.
5. Jasmine Trias: "It's Raining Men" -- Season Four's final competitors were a pretty formidable bunch, save for one contestant from Hawaii.
4. Bobby Bennett: "Copacabana" -- So oblivious was Bennett to what the judges wanted to hear on Idol that he decided to do the most overdone karaoke song of all time for his performance.
3. Janay Castine: "Hit 'Em Up Style (Oops!)" -- Emerging as a dark horse in Season 4, Janay's rendition of this Blu Cantrell hit really made America question her presence on the show. It was kinda scary!
2. Juanita Barber: "What About the Children" -- Juanita, a gospel singer, oversang this song about the children during Season 2, then shot back at the less-than-thrilled judges, asking Randy Jackson, "Do you know who I am? You better find out who I am."
1. John Stevens: "Crocodile Rock" (below) -- One of the greatest guilty pleasures in American Idol history was watching John Stevens step out of his shell to perform this Elton John classic. The judges called it the worst performance they had ever heard. What else could earn the #1 spot on this list?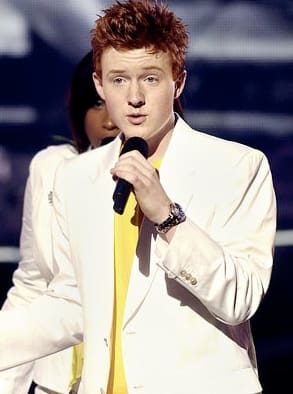 Matt Richenthal is the Editor in Chief of TV Fanatic. Follow him on Twitter and on Google+.