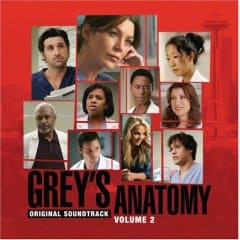 Music plays a huge role in the show we love, with the producers' eclectic selections giving it another dimension and making the first
Grey's Anatomy
soundtrack
an enormous hit with critics and fans alike.
The track list for the much-anticipated Volume 2 has just been released, with the album ready for pre-ordering now and scheduled to hit stores September 12 (the same day as the "uncut" Season 2 DVD). Season Three starts Thursday, Sept. 21!
Below is the track listing from the upcoming soundtrack, which you can pre-order from Hollywood Records:
The Fray, "How to Save a Life"
Moonbabies, "War On Sound"
Jim Noir, "I me you"
Ursula 1000, "Kaboom!"
Anya Marina, "Miss halfway"
Jamie Lidell, "Multiply"
KT Tunstall, "Universe & U"
Metric, "Monster hospital"
Gomez, "How we operate"
Kate Havenik, "Grace"
The Chalets, "Sexy mistake"
Gran Bel Fisher, Bound by love"
Get Set Go, "I hate everyone"
The Boy Least Likely To, "Be gentle with me"
Gabin, "Bang bang to the rock & roll"
Foy Vance, "Homebird"
Snow Patrol, "Chasing cars"
Steve Marsi is the Managing Editor of TV Fanatic. Follow him on Google+ or email him here.