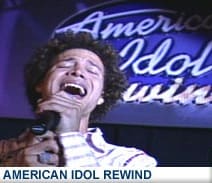 Ever wonder what happened to
Justin Guarini
? Vonzell Solomon? Brian Dunkleman? Contrary to popular belief, the
American Idol
rejects are all still around. In fact, they're all about to become huge stars, all over again.
Last night the victims of the wrath of Simon Cowell came out to celebrate the show that changed their lives forever and promote a new American Idol-based project at the exclusive Spyder Club in Hollywood.
Fremantle Media, the company behind American Idol, has just announced the creation of a new show called, American Idol Rewind which gives viewers a never-before-seen look into American Idol.
As the former cast-offs rolled in to the party, which featured a live performance from Guarini. The poofy haired singer serenaded the crowd with a few cuts from his soon-to-be-released CD, "Stranger Things Have Happened."
So if you're anything like us and crave these pop-culture flashbacks, check out American Idol Rewind, which airs in syndication starting September 30.
Matt Richenthal is the Editor in Chief of TV Fanatic. Follow him on Twitter and on Google+.