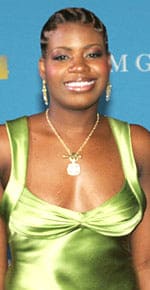 The father of
American Idol
winner
Fantasia Barrino
(right) has filed a
$10 million
lawsuit
against the publisher of a book about his daughter, alleging that it contains "false, exaggerated, sensational, intentional and malicious untruths."
MSN reports that in papers filed Tuesday in U.S. District Court in Manhattan, Joseph Barrino seeks damages from Simon & Schuster, which released Fantasia: Life Is Not a Fairy Tale in 2005. The book was made into a TV movie, starring Fantasia, that aired on Lifetime in August.
Among the details disputed by Joseph Barrino:
That he was hostile to the music industry
That he asks his daughter for money when she visits him
That his children's musical careers were more important than their education
Joseph Barrino's attorney, Kendall Minter, issued the following statement:
"The unfortunate publication of Fantasia's life story by Simon & Schuster seeks to capitalize on her American Idol success through disparaging certain members of her family. The lawsuit seeks to redress these wrongs and restore the integrity of the family members."
Although Simon & Schuster's website lists Fantasia Barrino as the book's author, the lawsuit alleges that the singer's grandmother, Addie Collins, was the ghost writer. Fantasia is not listed as a defendant.
Barrino reveals in her book that she was functionally illiterate and had to fake her way through some scripted portions of the TV show. A Simon & Schuster rep said that the company has not had a chance to see the court documents and would not comment.
The 22-year-old Barrino, a high school dropout and unwed mother at age 17, was the American Idol winner in 2004, the show's third season. Her debut album, Free Yourself, came out the same year and received four Grammy nominations.
Matt Richenthal is the Editor in Chief of TV Fanatic. Follow him on Twitter and on Google+.