The medical examiners on Grey's Anatomy can count up more casualties from CBS' CSI. ABC notched another win over its rival as the ratings for Grey's slightly improved from the previous week, with a 9.6/23 among viewers ages 18-49, versus the 6.9/16 number for CSI.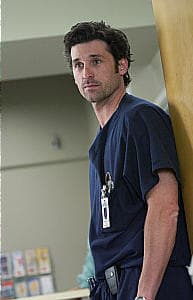 The gap between the two shows is now almost three full ratings points, each of which are roughly equivalent to a million viewers. Still, CBS will point out that its total viewers' tally isn't so bad.
Grey's Anatomy
only has a 1.6 million total viewer lead over
CSI
-- just a 7 percent gap.
The difference between them in the 18-49 demographic ratings is 28 percent. The 18-49 CSI ratings are now its lowest in two years.
But don't give Grey's Anatomy all the credit for derailing the CBS crime drama. Fox's NLCS Game 7 put up a healthy 5.4/15 in the 18-49 group -- the baseball playoffs' best numbers.
All this gave another Thursday win to ABC, its fifth in a row. It averaged a 5.8 rating/15 share, just ahead of CBS' 5.5/14. Fox was third at 4.8/13. Then came NBC with a 4.2/11, the CW at 1.7/4, and Univision at 1.4/3.
Without the big numbers of Grey's Anatomy, ABC wouldn't win the night. The network still has a 10 p.m. headache with its new show Six Degrees, which keeps relatively few of Grey's Anatomy viewers, earning a 3.5/9.
Steve Marsi is the Managing Editor of TV Fanatic. Follow him on Google+ or email him here.