With a new show and a new album on the horizon, one of our favorite Idol finalists, Kimberley Locke, is back and busier than ever.
As a judge on MTV's biggest Little Talent Show, Locke dispenses singing advice - while attempting to keep a straight face. Her new album, Based on a True Story, is ready for release "God-willing" this March.
The TV blog TV with MeeVee had the pleasure of interviewing Locke over the phone this week. With the help of some of her most diehard fans, here is the scoop on what's now and what's next for this bona fide "Supawoman."
~~~~~~~~~~~~~~~~~~~~~~~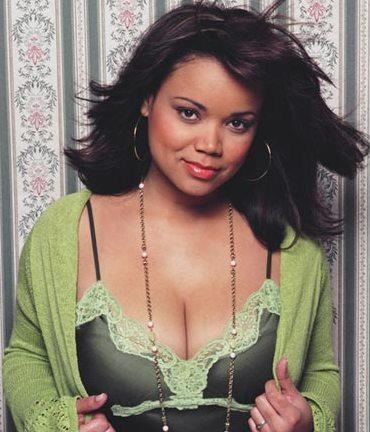 TV with MeeVee: Tell us about your new show, MTV's Little Talent Show.
Kimberley Locke: The show is a lot of fun, the contestants have to sing, dance, and act. I have to say that the title is indicative of the talent. These contestants come on the show and tell us how great they are, comparing themselves to Mariah and J. Lo and Justin. It just goes to show that people's perceptions of themselves are everything.
TV with MeeVee: It kind of reminds me of the early rounds of American Idol.
Kimberley Locke: That's exactly what it is.
TV with MeeVee: I love your reaction shots, they keep cutting back to you, what's going through your mind?
Kimberley Locke: Sometimes I have to ask, can these people not really hear themselves? And by doing this show I realized that they can't. That's what being tone deaf is.
TV with MeeVee: You've hosted a show on Game Show Network, and now you're doing MTV. Is this something you want to continue with, television?
Kimberley Locke: For me, yeah absolutely. From the very beginning, even when I was on Idol, I wasn't really focusing on winning the show. Yes, I would have loved it if I had won. Everyone wants to win, but I focused on staying on the show as long as I could to get the exposure. I realized being able to stay in this industry over the long-term means you have to diversify.
TV with MeeVee: It sounds like that business degree has really come in handy – that and a lot of E! True Hollywood Stories...
Kimberley Locke: It's nice to be known for something other than singing, because people know me and will always know me as a singer first. I was a model for Lane Bryant.
DeNeva: How's that going? Are you going to continue being one of their spokesmodels?
Kimberley Locke: I've been with them for a year and a half. I haven't renewed the contract yet. Just the fact that I got to do it for a year or two - I was very excited.
TV with MeeVee:
When you were on
American Idol
, did you feel pressure to lose weight or change your look in general?
Kimberley Locke:
I didn't even think I had a weight problem until I got to LA. You can't help but think about it. I finally got to a place where I was like, "You know what? This is who I am and I'm happy with who I am," You know, it's a personal challenge because I'm happy with myself either way. I think that's what's hard for people to accept, when a person is happy with themselves even when they're not that perfect size 6. The more I'm in this industry, the more I realize how important image is.
TV with MeeVee: Do you have any advice for girls who want to pursue acting or singing that don't necessarily possess the Britney Spears Body?
Kimberley Locke: A lot of it is confidence. I tell people you have to be comfortable with yourself because this industry has a way of breaking you down. When I was doing Lane Bryant there were a lot of ladies and young girls that would come up to me and say "You're not a plus size model," and I would say to them, "I'm not a plus size to you, but to the industry I am." I try to tell women all the time, it doesn't matter what size you are, love yourself, like who you are, and then if one day you decide you want to lose the weight, then lose the weight. In the meantime, be happy with yourself.
TV with MeeVee: After American Idol, you and Clay Aiken hooked up as roommates, do you still hang out?
Kimberley Locke: I talk to Clay on the phone and we do exchange emails, but I haven't seen him in so long. It's kind of a shame, but you know we're busy. If I were to see him today, we'd pick up right where we left off.
Gabby: Have you seen or spoken to Frenchie Davis since she left American Idol?
Kimberley Locke: When the scandal went down, I was so disappointed that she got kicked off. She came back on the show once after that. I haven't really talked to her since, but I know she's doing well.
Brianna: You did a duet with Clay on your last album, One Love. Would you ever consider doing a duet with Ruben Studdard?
Kimberley Locke: Absolutely, Ruben gave me so much flack about that duet with Clay (laughs). So I owe him one.
TV with MeeVee: What inspires you as an artist?
Kimberley Locke: Before the show, I guess what inspired me was just the way [music] made me feel. Now that I'm on the other side of the picture, my fans inspire me. They have a way of putting things in perspective, when they come up to me and say, "That song, it really meant something to me." You don't realize how much your music affects people's lives. If you ask people at any given point in their lives what they were doing when they had their first kiss or first dance, they can remember what music was playing.
TV with MeeVee: Any particular memory you want to share?
Kimberley Locke: My brother had this really cute friend, and his name was Todd. I can't remember the exact song, but every time I hear it that memory pops up in my head. It's like an old Phil Collins song.
TV with MeeVee: Tonight, Tonight, Tonight...
Kimberley Locke: Exactly! (laughs)

TV with MeeVee: Let's talk about your new album, Based on a True Story. How do you think it differs from One Love?
Kimberley Locke: It's very different in that I wrote all the songs myself except for one or two. I had so much input and the songs are very personal.
TV with MeeVee: Your first single is "Supawoman." How would you define a Supawoman?
Kimberley Locke: "Supawoman" is one of those songs that I wrote a little bit out of frustration. Can you handle me as I am, who I am, with everything that comes along with me, my career, my confidence, my independence? There are a lot of guys out there that can't. I guess when I wrote that song I was dealing with it quite a bit.
Tyson: Any potential release date for the album?
Kimberley Locke: We're releasing a Christmas single around the holidays and then in January we release the next single "Change." God-willing "Change" makes a big splash on the radio,and the album will come out in March.
Brianna: Several celebrities have made the decision to step away from the spotlight for a while and focus on themselves. Do you see yourself doing the same in the near future?
Kimberley Locke: Yes, I do. I think that you have to step away. You have to take time for yourself. When I'm out and about with my friends, my family, if my fans come up to me, I start to work. So I understand why celebrities take that time off because you have to do something for yourself.
TV with MeeVee: What are your favorite TV shows?
Kimberley Locke: Ooohhh, Desperate Housewives, Grey's Anatomy, Girlfriends. I'm hooked on Girlfriends. I want to be on that show so bad. I love that show. I am so Joan. Joan is a perfect example of a Supawoman. She's a lawyer, she's smart, she's independent, and she just cannot get her love life together. I'm a cartoon fanatic. I've been watching The Proud Family which is on Disney. I love to watch Scooby-Doo, also The Smurfs and the Fairly Odd Parents. I watch a lot of cartoons (laughs). If I'm watching TV, I'm watching cartoons.
Matt Richenthal is the Editor in Chief of TV Fanatic. Follow him on Twitter and on Google+.