American Idol Worship has come across an online account of a Clay Aiken record release event in Los Angeles. Here's the eyewitness account:
~~~~~~~~~~~~~~
More than 125 fans gathered at the Burbank Hilton Hotel and Convention Center to listen to Clay Aiken's new album, A Thousand Different Ways, eat some food, talk about their favorite Idol, raise money for his Bubel/Aiken Foundation, and engage with some very special guests.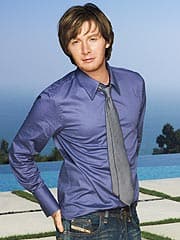 Also, there were 300
ATDW
CDs that had been pre-sold and then handed out that night.
Fred Bronson of Billboard Magazine, who has become the icon of industry statistics and predictions for Los Angeles-area Aiken fans since Clay's first CD release, was there to exchange and inform.
Fred's friendship with Clay Aiken and his experience in the business make him a desirable person to have around at an event of this sort, and the party guests were delighted with his presence once again.
Mr. Bronson held a Q&A with the fans about industry standards and expectations for Clay's new CD.
He also gave some advice about how to handle requests with radio stations for ATDW.
Fred himself always has a million different irons in the fire -- books he's writing, others he's updating. His latest, entitled Dick Clark's American Bandstand, is in bookstores now. Fred will be writing for the upcoming American Music Awards as well as Dick Clark's Rockin' New Year's Eve show.
One interesting new endeavor he mentioned was the writing he's been doing for
American Idol Magazine
. And with regards to that publication, Bronson conducted a short informal survey that was related to his current research that involved Clay. Here's what he said:
"I'm writing a lot more now for the American Idol Magazine. I started off writing 1-2 things and then they gave me a whole bunch of assignments. For the next issue there will be a story on the top ten performances for the last five years. Sorry, but Clay didn't make it -- no, I'm kidding, of course he did. [Crowd Roars] I won't tell you where he ended up, but I will tell you he is in the top ten. You'll have to go get the magazine to find out how he was ranked."
Bronson went on to take a poll on what the fans thought was the best of two AI Aiken performances -- "Bridge Over Troubled Water" and "Solitaire."
Interestingly, there was a bigger reaction for "Bridge" than for "Solitaire." Who knows what Fred had up his sleeve with this off-the-cuff survey, but he had a sampling of the fan base right there and it was obvious he wanted to take this opportunity to survey them.
Another highlight of the evening was Suzie McNeil, the last young lady to remain standing on Rock Star: INXS last year. Suzie's duet with Clay on A Thousand Different Ways, entitled "I Want to Know What Love Is," is edgy and memorable.
Producers knew what they were doing when they got the two of them together to record this. The blending of their voices is not to be missed. You've got to hear it to believe it, because as love song duets go, it doesn't get any better than this.
I think all the Claymates were sold on the song, but they may have been just a little hesitant at the thought of actually meeting Suzie McNeil from the Rock Star show. What would that be like?
As it happened, the "rocker" stereotype was quickly forgotten because in the few minutes after she began to speak Suzie was embraced by the crowd. She came across as a sweet, soulful but playful young woman.
Endearing, open and extremely conversational, McNeil wowed all the fans with her personal accolades for Aiken's talent and character, little tidbits of info about her experience recording a song with him, and some details about the way her own career was going.
Everyone listened and became enamored.
Here's a bit of what she had to say that night to the fans:
"There's just a couple of things I wanted to say and the one resounding thing is that I relate to Clay as an artist and as a musician. He is so lucky to have all your support and love. I mean -- to do this -- I walked in and I was like -- all this is amazing! So, I just wanted to say that it looks really special to me, and I'm honored to be here. Thank you for inviting me."
Last, but not least, it's the fans who also make the gatherings successful and special. Los Angeles fans are terrific. Steadfast, positive, fun-loving, tenacious, if perhaps a bit quirky (but then, that's what L.A. is all about, isn't it). They have formed friendships through their love of Aiken's music that will last a lifetime.
To top it off, the Los Angeles contingent of Clay fans raised $2,200 that night for The Bubel/Aiken Foundation. Not a bad figure I'd say for a few hours of fun celebrating a new album they've been anticipating for a long time.
Matt Richenthal is the Editor in Chief of TV Fanatic. Follow him on Twitter and on Google+.