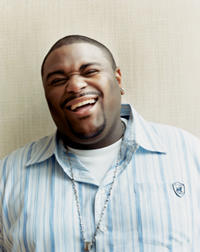 The Velvet Teddy Bear is coming to Meridian, Miss., for a charity event, the
Biloxi Sun-Herald
reports today.
The venerable Ruben Studdard, who was given his nickname from R&B legend Gladys Knight, will be performing a concert on October 13 to benefit the Shriners Hospitals for Children Transportation Fund.
"I'm coming up there to do a concert to support the kids. I am just a firm believer that you do unto others that you would have them do unto to you," Studdard said in a telephone interview with The Associated Press.
A native of Birmingham, Ala., Studdard rose to success after winning Fox's smash hit American Idol in 2003, narrowly defeating Clay Aiken in the show's second season.
He has released two albums under the label J Records and plans to release his third album, titled The Return, on October 17.
The proceeds from the Meridian show will go to the transportation fund of the Hamasa Shriners, who serve 32 counties in eastern Mississippi from Corinth down to Hattiesburg, according to Benny Eggler, the recording secretary for the Meridian-based Shriners.
The Hamasa Shriners help transport 500 children and their families each year to hospitals in Shreveport, La.; Galveston, Texas; Chicago; St. Louis; and Philadelphia, Pa.
Eggler said raising money is always an ongoing battle, especially with a decrease in donations since Hurricane Katrina. Last year, the group spent
$80,000
supplying transportation, housing and food for patients and their families, Eggler said.
"If we had an emergency where a child is burned and needs to get to Galveston, last year it would take over $8,000... to fly the child to the location," Eggler said.
Studdard became involved with the project because of his friend Allan Cole, a Meridian native working for J Records, whose brother has been a patient at Shriner hospitals for over five years, and whose nephew is currently a patient as well. Cole said his family has been receiving help from the Shriners for more than a decade.
"At the end of the day my general purpose in life is I love giving back," Cole said.
The event will also feature Studdard's band, Just a Few Cats, and Oprah's Pop Star Challenge finalist Lorenzo Owens. The show begins at 7:30 p.m. at the Hamasa Shriners Temple Theatre. The event featuring the American Idol winner is currently a one-day show, but if ticket sales are substantial, the benefit could be a two-day affair.
Always a believer in philantrophy, the singer founded the Ruben Studdard Foundation upon winning American Idol, helping promote the advancement of children in music and the arts.
Matt Richenthal is the Editor in Chief of TV Fanatic. Follow him on Twitter and on Google+.