You may remember Ruben Studdard.
The portly crooner with the sheepish grin bested Clay Aiken for American Idol's second season crown. But Ruben's gleam was quickly dulled by some seriously stiff competition from lower-ranking American Idol standouts (including Aiken) and subsequent Idol winners.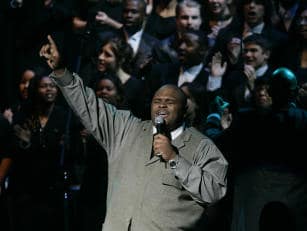 Studdard is intent on proving his staying power on
The Return
, which hits stores today.
He says the title is a reference to the fact that many people thought he had not recorded since his debut album, Soulful, was released after he won the TV contest three years ago.
A more-quietly received disc of gospel tunes, I Need an Angel, was also issued during that time.
The title cut, "The Return (of the Velvet Teddy Bear)," is an affirmation of that statement -- along with a statement of Studdard's romantic prowess.
"I meet expectations, better yet, exceed them," Studdard boasts amid a sensual, shifting beat. It's not quite SexyBack, but the song does set a confident tone for the rest of the disc, writes the Houston Chronicle.
Lush first single "Change Me" casts Ruben Studdard as a lover wounded by his partner's hurtful remarks, though it also showcases a welcome sense of humor.
"What if I talked about your face in the morning?'' Studdard asks. "'Cause we know you ain't cute in the morning.''
These moments play on Studdard's unique personality and are the strongest on The Return.
"Our Story" is another standout, a sweet love chronicle that goes from phone numbers and first kisses to marriage. It's a wedding theme waiting to be discovered.
Vocally, Studdard goes from powerful phrasing to airy falsettos with ease. His phrasing has always been a strength. And a crew of accomplished A-listers -- the Underdogs, Happy Perez, Ne-Yo and Scott Storch -- surround Studdard with streetwise beats and lyrics.
"One Side" bears more than a passing resemblance to Ne-Yo's own monster hit "So Sick." And "Ain't No Party" is anchored by a dark, galloping groove.
"I'm Not Happy," one of four cuts co-written by Studdard, benefits from a tight flamenco-tinged arrangement.
But Studdard's Return isn't completely successful in reshaping his musical identity. Several tracks -- "What Tha Business Is," "Listen To Ya Heart," "To Da Crib" -- are more ordinary R&B material. A relatively painless cover of "If Only For One Night" (a tribute to the late Luther Vandross) sounds like a lost American Idol performance.
But when he sticks to songs that complement his individuality, Studdard has no problem maintaining his position as Idol royalty.
Take that, Claymates.
Matt Richenthal is the Editor in Chief of TV Fanatic. Follow him on Twitter and on Google+.