It's almost that time again.
Our favorite show is getting close to returning, and USA Today has the scheduling scoop for American Idol Season 6. Air dates for the audition rounds start with a pair of two-hour episodes January 16-17, with the ensuing "Hollywood" rounds (or wherever in the L.A. megalopolis the judges actually narrow down the auditiion winners) will be broadcast February 6, 7, 13 and 14.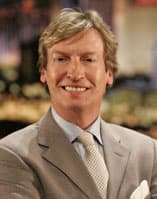 The newspaper caught up with executive producer
Nigel Lythgoe
(right), who promises some of the worst singers ever this season, but swears the producers can tell the difference between sincerely deluded bad singers and performers trying to contrive their way onto the show and gain 15 minutes of fame by being deliberately awful.
In other words, don't hold your breath for the second coming of William Hung... but you never can tell.
In any case, Simon Cowell, who hated the auditioners in Seattle and (not surprisingly) has said so in no uncertain terms, is sure to be annoyed beyond comprehension when the show gets underway.
Which is part of the reason we love watching, of course.
On the flip side, Simon Cowell insists he loves Randy Jackson, Paula Abdul and Ryan Seacrest -- although Lythgoe counters that the fearsome foursome "always get on each other's nerves... they never behave well."
That doesn't stop them from delivering on the business end, however. Lythgoe modestly calls the American Idol judge team "the best judging panel of (any) show in the world," and wryly observes about the auditions, "There was a lot of sucking up going on -- which we encourage."
Simon is clearly in mid-season form already.
Matt Richenthal is the Editor in Chief of TV Fanatic. Follow him on Twitter and on Google+.