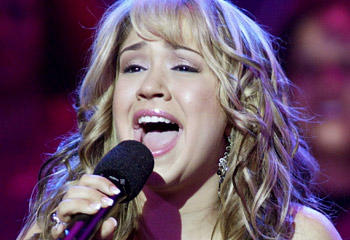 , the talented singer who went from
American Idol
runner-up to Broadway, claims she's been the victim of an Internet stalker who stole her identity and blackmailed her.
The American Idol star, currently starring in "Hairspray" on Broadway, says the stalker first contacted her through DeGarmo's page on MySpace.
Appearing Tuesday night on Fox News' The O'Reilly Factor, DeGarmo said that a young Australian woman bombarded her with email and instant messages. The stalker then somehow got a hold of DeGarmo's cell phone number and called her up to 60 times a day.
The singer says the woman assumed her identity and used it on the Internet to solict sex and drugs. DeGarmo, who finished second to Fantasia Barrino on the third season of American Idol, told O'Reilly the woman then called her and asked for money to leave her alone.
The Broadway star tracked the stalker to Australia and reported her to police there. After an extensive search spearheaded by the FBI and the Australian Federal Police, Tanya Ouattrocchi was nabbed and is due to face a laundry list of charges in Melbourne Magistrates Court on December 11.
Assuming the guise of a 14-year-old "big fan" from Minnesota, Ouattrocchi was initially pleasant and complimentary when she first contacted DeGarmo via her MySpace page. But the communication reportedly deteriorated into stalker-like rants when Ouattrocchi began emailing her explicit material and "outrageous questions" about her sex life.
Matt Richenthal is the Editor in Chief of TV Fanatic. Follow him on Twitter and on Google+.