Here's some information we've come across from around the world of American Idol. There's certainly a lot going on with our favorite stars, as we try our best to keep you updated...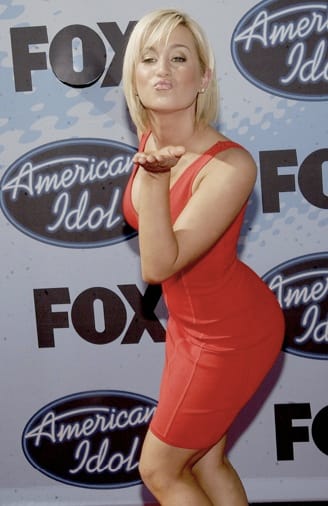 KELLIE PICKLER
Although she confessed terrible details of her childhood this week, there's been nothing but good news for Kellie Pickler (right) in terms of album sales and critical recognition.
Her CD, Small Town Girl, sold 79,000 copies in its first week and debuted at #9 on the Billboard 200 and #1 on the Country chart! Good for her!
CHRIS DAUGHTRY & ACE YOUNG
Tickets are now on sale for San Diego Star 94.1's Jingle Ball, a concert takeing place Friday, December 8 at 7 p.m. Chris Daughtry and Ace Young will appear, along with Jewel, Smashmouth, Five for Fighting and 3 Doors Down. For ticket information, check out the station's website.
Also, if you want to hear a preview of the debut album from the Daughtry band, the Sony music store has put up a few clips to stir fans' appetites.

FANTASIA BARRINO
The release date for Fantasia Barrino's CD has been moved from November 28 to December 12. Not clear on why this delay is taking place, but we look forward to hearing the album in December.
KATHARINE MCPHEE
The debut album was first moved from November 28 to December 5, and now, we're told it's been moved again, back to December 19, barely enough time to capitalize on Christmas sales. Of course, as tends to happen with Katharine McPhee, rumors are swirling regarding the delay. Does the starlet continue to have voice problems? Are there issues between her and the producers?
One item that has not been delayed is Katharine's appearance on VH1's Big in '06 on Sunday, December 3. She'll also be presenting on the American Music Awards along with Taylor Hicks and Clay Aiken. Carrie Underwood will be a performer. The AMA's will be hosted by Jimmy Kimmel and will air live next Tuesday, November 21!
Matt Richenthal is the Editor in Chief of TV Fanatic. Follow him on Twitter and on Google+.