Another Grey's Anatomy Rumor Centers Around Isaiah Washington
Steve Marsi at .
Any time Grey's Anatomy spoilers are referenced, you have to take them with a grain of salt. The term is practically a misnomer, given how shrouded in secrecy the program is.
But a TV Guide insider is revealing a possible (but we would have to say unlikely) rumor that we nonetheless thought would be of interest. The magazine's Michael Ausiello writes: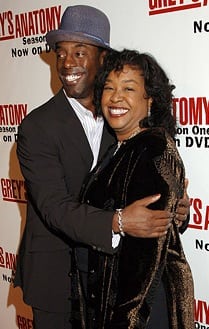 "Although I don't believe for a second that
Shonda Rhimes
would actually do this, the chatter about a possible Burke death is getting louder with each passing day. A
Grey's
source, however, says it's not true and that
Isaiah Washington
's job is safe â€" at least for now.
Speaking of which, did you all catch the special Grey's Anatomy-centric Oprah two weeks ago? And if so, how uncomfortable was O's little powwow with Washington, Patrick Dempsey and T.R. Knight? I haven't witnessed such a forced reconciliation since the late '90s when Cybill Shepherd and Christine Baranski went on Entertainment Tonight to proclaim that everything was hunky-dory on the Cybill set."
We personally don't believe Dr. Burke is going anywhere, especially since he has received the full backing of Shonda Rhimes publicly and his character is as central to the show as ever before.
As far as Ausiello's take on the Oprah visit, it's hard to say whether they were uncomfortable or not, as interviews are not scripted and don't often catch people at their best. We thought they looked fine.
Steve Marsi is the Managing Editor of TV Fanatic. Follow him on Google+ or email him here.