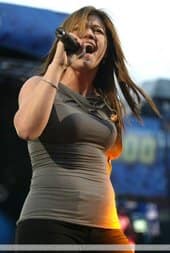 By now it's an understatement to say that American Idol is a smash hit that has produced its share of icons.
Kelly Clarkson (right) is one of the biggest stars in music. Also from the show's early years came Clay Aiken, whose every move is scrutinized by the press - and adored by his millions of devoted fans.
In 2006, Carrie Underwood became a bona fide country sensation, while we got to know two new talented youngsters by the names of Katharine McPhee and Taylor Hicks.
Past champions Ruben Studdard and Fantasia Barrino, meanwhile, returned to the spotlight with new records - and, in her case, a hit TV biopic. Jennifer Hudson will be a contender for an Academy Award for her role in Dreamgirls.
But what about those who came up just short? Or the singers we got to know briefly on American Idol, but who were gone in the blink of an eye? Here's a list, compiled by Reality TV World, of what the rest of the finalists - some much better known than others - are up to now. Hopefully, this will get you up to date and you can finally become the American Idol expert you already claim to be!
AMERICAN IDOL: SEASON ONE
Christina Christian: Living in Florida with husband and son and working as a songwriter. Received her real estate license and has a successful career selling real estate.
Elijah Day: Living in Georgia when he's not singing on cruise ships.
Justin Guarini: Living in the Hollywood Hills and recently finished a jazz/soul album. Has hooked up with small record label and is now working on an R&B album.
A.J. Gil: Living in California and working on a R&B album.
Tamyra Gray: Recently married former Color Me Badd singer Sam Watters in Italy.
R.J. Helton: Came out of the closet in October and enjoying life with boyfriend.
Nikki McKibbin: Bartending in Texas, planning her July wedding, and working on a rock CD.
Ryan Starr: Living in California and pitching a reality show about landing a record deal.
Jim Verraros: Living in Chicago with his partner Bill and working on his second pop album.
AMERICAN IDOL: SEASON TWO
Kimberly Caldwell: Working for TV Guide Channel in Los Angeles and planning a country album, having dropped the rock album she was working on for three years. The issue at hand it that is being done in conjuction with Randy and Diane Warren, and they have limited availablity to work on this project - they are now involved with other past American Idol stars.
Corey Clark: Working construction in Nashville and separated from his wife. Was arrested last year in Arizona for trespassing.
Julia Demato: Working as a cosmetologist and raising her new son as a single mom in Connecticut.
Josh Gracin (right): Living in Nashville with wife and three kids and performing at shows (about 130 in 2006). He has toured to promote his successful, self-titled debut record and is rumored to be working on another.
Charles Grigsby: Taking a break at his Ohio home after losing a cousin to diabetes.
Kimberly Locke: Living in New York City and working on a second pop album and Christmas album that are both due out in 2007.
Carmen Rasmusen: Living in her native Utah with her new husband, and recording a country album.
Rickey Smith: Bartending in Oklahoma and recording a R&B album after graduating from college in June.
Trenyce: Living in Los Angeles and getting ready to appear in the musical Invisible Life.
Vanessa Olivarez: Living in Atlanta and singing country with South 70.
AMERICAN IDOL: SEASON THREE
Amy Adams: Living in California with her husband and son after touring with Joseph and the Amazing Technicolor Dreamcoat.
Diana DeGarmo: Having endured a recent stalking scandal, she is living in New York City and performing in Broadway's Hairspray.
Leah LaBelle: Studying at Boston's Berklee College of Music.
Jon Peter Lewis: Living in Los Angeles and promoting his recently released his debut album.
La Toya London: Living in Oakland and starring in stage version of The Color Purple in Chicago.
Matt Rogers: Living in California with wife and son and hosting the Discovery Channel's upcoming Really Big Things series.
John Stevens: Attending the Berklee College of Music in Boston.
Jasmine Trias: Moving to Los Angeles and working on an album and auditioning for movies.
Camile Velasco: Living in Los Angeles and recording an urban R&B album.
AMERICAN IDOL: SEASON FOUR
Bo Bice: Promoting his debut album, The Real Thing, and recovering from intestinal surgery.
Lindsey Cardinale: Working on a country album and living in Louisiana.
Mikalah Gordon: Singing in a Randy Jackson-produced girl group. Was mugged last year in Las Vegas.
Anthony Fedorov: Recording his debut album and dealing with losing his brother, 28-year-old Denis, to a rare form of cancer.
Constantine Maroulis: Performing in Broadway and off-Broadway productions after his ABC sitcom project fell through. Was recently spotted partying with troubled Miss USA, Tara Conner.
Anwar Robinson: Working on an R&B CD, living in New Jersey and enjoying his privacy.
Jessica Sierra: Living in Nashville and recovering from terrifying stalker experience.
Scott Savol: Recording an R&B CD in Nashville, spending time with his wife, son and stepdaughter.
Nikko Smith: Living in St. Louis and talking to some record labels.
Vonzell Solomon: Living in Florida, finishing an R&B album and breaking into acting.
Nadia Turner: Living in Miami and working on her album and clothing line and caring for her 7-year-old daughter.
Mario Vazquez: Promoting his debut album and rebuilding his relationship with his estranged father.
AMERICAN IDOL: SEASON FIVE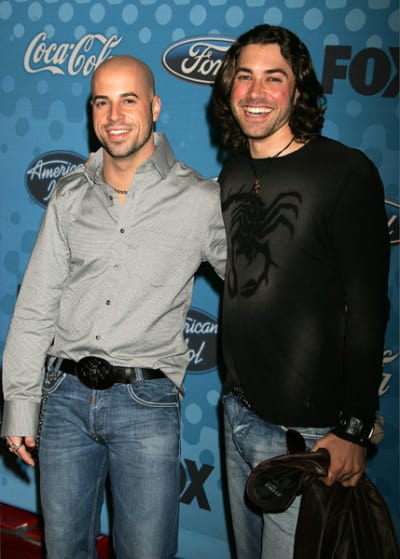 Paris Bennett: Wrapping up her debut album, entitled Princess P, that's due out in January.
Kevin Covais: Planning to "give movies and TV a go" after graduating high school. That's right. High school.
Bucky Covington: Living in Nashville with his wife and putting the finishing touches on his country album.
Chris Daughtry: Maybe you remember this guy (pictured). He's promoting his debut album, Daughtry, which has already sold several hundred thousand copies, and enjoying a new $690,000 North Carolina home with his wife and kids.
Mandisa: Finishing her Christian album that's due out in April and penning an American Idol book that comes out in June.
Melissa McGhee: Working on a southern-rock CD and living in Land O'Lakes, Florida. Yes, that's a real place!
Kellie Pickler: Promoting her debut album, Small Town Girl, and working on her Fox sitcom project. Recently went public with more about her troubled family life and abusive childhood.
Lisa Tucker: Graduated from high school and planning to attend college
Elliott Yamin: Dating a model, Jamie Paetz, and recording a soul album in Los Angeles. Needs some dental work, though!
Ace Young (pictured, with Daughtry): Living in Los Angeles and working a debut album that he plans to release in 2007.
Heard any additional news about these American Idol stars that you'd like to share with us? Leave us a comment and let us know!
Matt Richenthal is the Editor in Chief of TV Fanatic. Follow him on Twitter and on Google+.