With the sixth season of American Idol just days away, The Concord Monitor checked in with local voice instructor Ellen Nordstrom Baer of the Concord Community Music School.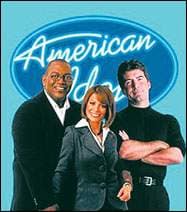 Baer, an opera singer, has taught students that have made it to American Idol's top 150, along with Star Search's top 50. She's also been featured on the MTV show Made. The paper asked Baer for the inside scoop on singing contests.
Someone that reaches your soul ... that connects with the audience. I believe they're also looking for things that are unusual. Maybe a different kind of lick on a general ballad.
[Clay Aiken] has the audience appeal, but Ruben had the better voice, if you ask me. But Ruben, I don't know where Ruben is. (He's) the next Luther Vandross, but he just hasn't marketed himself.
Oh honestly, I actually like Simon. I do believe he's honest and he knows what he's talking about. I think he gives tough love.
What's a song you would recommend no one ever sing on American Idol?
"I Will Always Love You" by Whitney Houston.
Will any of your students be auditioning this year?
Not this year. But I do have someone who's interested in the Rock Star: Supernova show with Tommy Lee.
Matt Richenthal is the Editor in Chief of TV Fanatic. Follow him on Twitter and on Google+.