The good folks at Entertainment Weekly have recently reviewed a new game for PlayStation 2: KARAOKE REVOLUTION PRESENTS AMERICAN IDOL. Here's what they had to say:
It's a sad truth that there are more William Hungs than Kelly Clarksons in this world, but even the most tone deaf of crooners should have a blast playing this videogame version of FOX's relentlessly popular TV show.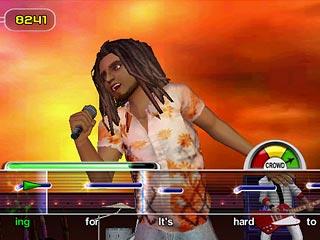 Karaoke Revolution, already a terrific game franchise, has smartly teamed up with American Idol for this latest version in the series, and for the most part it's an irresistible duet.
KR: AI retains the same gameplay engine that detects if the notes you're singing into the microphone (an optional accessory) are actually delivered in the proper key. The game is also dressed up with lotsa AI frills: the show's catchy theme song, the strange Ryan Seacrest-isms, the cheesy hotel ballrooms, and best of all, the judges' table.
Simon Cowell and Randy Jackson are represented by their decent digital counterparts, but Paula Abdul is conspicuously absent, replaced by a generic-looking understudy named Laura (who just happens to share Paula's more, uh, forgiving critical sensibilties).
It's not too hard to cruise through the competition's eight rounds and win the whole enchilada when playing at the easiest skill level (and by taking advantage of the game's inability to distinguish between singing and humming). Still, Simon and Randy can be harsh in their judgments - even by real-life Simon's standards - especially if you run out of steam and commit the mortal sin of ending a song on a sour note.
There's a fair amount of variety to their computer-generated phrases though, and in a perverse way, you'll never get tired of hearing Simon singling out your performance as ''AHB-solutely ah-PALL-ing!''
KR: AI offers a much better mix of classic and contemporary songs than its predecessors. There's even a cover of ''She Bangs'' for fans dying to see if they can out-Hung the off-key master. The tunes expose the major flaw with the series, however: you can easily blow through all of the game's 40 tracks in one sitting, especially if you have the help of a few willing (and inebriated) friends.
There's also an almost inexcusable shortage of songs from American Idol alums: The list begins and ends with Kelly Clarkson's ''Breakaway.'' What's that noise? Ohh...so this is what it sounds like when Clay Aiken fans cry.
Grade: B+
Matt Richenthal is the Editor in Chief of TV Fanatic. Follow him on Twitter and on Google+.