If you're a fan of American Idol, the cover story of this week's Entertainment Weekly is music your eyes.
It delves inside the new season, speaking with judges and producers from the show. You can read the entire thing here - or check out various parts from the article as post them on our site. Here's the first:
1. There's no obvious front-runner
One girl pulled a tuning fork out of her shoe. Another had a squeaky, helium-high voice that made season 5 urchin Paris Bennett sound like Isaac Hayes. One guy was so obsessive during auditions that he took copious notes about each contestant, his or her song choices, and each judge's reaction.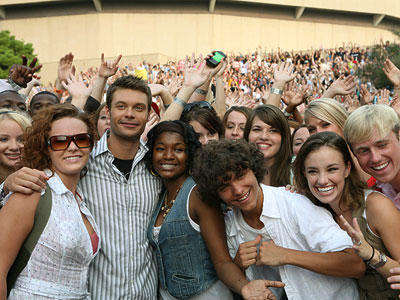 There's even a contender named — boy, we hope we're spelling this right — Chiquini. The one element that's missing as we enter season six? A sure thing.
''Occasionally someone like Carrie Underwood or Fantasia walks in,'' Simon Cowell says, ''and you just absolutely know [they] could win. This year, I think it's going to be more like season one, not as obvious. I really hope that, actually.''
Which is not to say that the judges don't have a couple of early favorites. Randy Jackson cryptically predicts the winner will be ''someone with curly hair,'' while Cowell is eyeing two strong contenders:
''One guy who stands out in the crowd and has what I call the likability factor. He's not what I would call the typical American Idol because he's different... but everyone liked him ... [The other is] ''one girl who's got an incredible voice... but not much personality at the moment.''
No personality?! No excuse. Serious hopefuls have had five years to study at American Idol University, and they should know that a snooze-inducing persona will buy them a one-way ticket to Crushed Dreamsville.
As such, says Idol host Ryan Seacrest, ''this is a very intense year. These are the savviest contestants we've ever seen. There's aggression, intensity, a bit of every man or woman for himself or herself. They don't care about making friends. They want to make money.''
They also want a reaction from Simon, but now they aren't so quick to take his criticism.
''With Simon getting it wrong regarding Taylor, it's ammunition for the contestants,'' says exec producer Nigel Lythgoe. ''If Simon says 'I don't like you,' now they say, 'I don't give a s---. You didn't like Taylor last year.'
Matt Richenthal is the Editor in Chief of TV Fanatic. Follow him on Twitter and on Google+.