If viewers are to take American Idol at its word, Wednesday's episode was a public service announcement of sorts. The point of the extra-special bonus episode was not only to highlight more of the best and worst auditioners, but also to show how to succeed on Idol without really trying.
The show offered six steps to consider, some more obvious than others. The trick is, most of the advice was tongue-in-cheek. Follow it and a contestant might get on TV — but probably not a ticket to Hollywood.
For example, the first step — or "The Look." As Ryan Seacrest explained in his voice-over, "In a sea of 100,000, it us very easy to get lost. A snappy little outfit might be just what you need to stand out."
Of course, standing out might get a contestant on the show to be mocked, but costumed people tend not to have a high success rate of actually advancing.
Christa Fazzino showed up in a funky outfit that extolled her individuality, but uniqueness in fashion sense isn't what the judges are interested in. She got her few minutes of airtime — but she ultimately also got the boot.
As a counterpoint to that, the show brought out Tami Gosnell, a Colorado native who didn't show up in costume, didn't have a particularly fantastic personality, and didn't look like a candidate for the cover of teen magazines even after a makeover. One mitigating factor was in her favor: She could sing.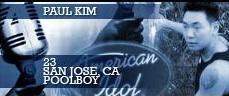 Her rendition of "Whipping Post" proved that, as Ryan conceded, "mad skills" outweigh the need to play dress-up.
The next lesson was to "Seek Inspiration," with some predictable clips of Taylor Hicks wannabes. But the world doesn't need more than one prematurely gray harmonica-playing pop singer, and therefore none of the imitators did very well.
On the other hand, Paul Kim (pictured), a Los Angeles pool boy, said he was inspired by William Hung, which sounds like a trainwreck waiting to happen. Instead, it was all good.
The inspiration came from wanting to show that an Asian could succeed on the show as something other than a good-natured joke, and he accomplished that with a strong performance that wowed the judges and got him a unanimous pass into the next round.
To read the rest of this MSNBC article, click here.
Matt Richenthal is the Editor in Chief of TV Fanatic. Follow him on Twitter and on Google+.