Last night, the men of American Idol pained us. It was sad, but true.
So let's see if the women can pick up the pace this week. And if Ryan Seacrest and Simon Cowell can make nice for two hours ...
- First up is Stephanie Edwards. We don't know a lot about her - but after this rendition of Alicia Keys, it's safe to say we'll be learning a lot more about this talented singer.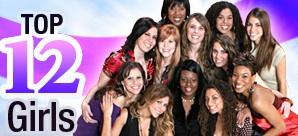 - Did anyone follow Simon's candle metaphor? Either way,
Amy Krebs
is decent, but we've heard "I Can't Make You Love Me" so many times on
Idol
.
- Sorry, Leslie Hunt. But this isn't a good sign: Paula can't come up with anything nice to say about your audition. May have been smarter to avoid a toughie such as Aretha Franklin.
- Whoa, where did Sabrina Sloan come from? Simon can't say enough about this contestant, the one that's barely received any air time until now.
- We think she'll see more.
- We're still thinking about those Antonella Barba pictures. But the beauty is singing now ... and, uh-oh, now she's hearing it from Simon. A lot. This may actually deliver enough sympathy votes to keep Antonella around. But she still didn't make Aerosmith proud.
- Everyone likes Jordin Sparks (pictured). How can you not? See you next week, Jord.
- And now is time for the least known of all the
American Idol
semi-finalists:
Nicole Tranquillo
. We kinda liked her take on Chaka Khan. The judges? Not so much.
- You gotta at least admire Haley Scarnato for tackling Celine Dion. That star has range, no matter how you feel about her music. Guess we'll see tomorrow whether or not she becomes Haley ScarNOTo. Sorry, couldn't resist.
- Since You've Been Gone, Melinda Doolittle, we've been wondering how you'd live up to the hype of being a favorite. Pretty darn well, it turns out.
- Did anyone else think Alaina Alexander might run out of breath? Maybe it was just us. But we've got a feeling this hopeful will have run out of time on the show by this time tomorrow.
- Nothing significant to report about Gina Glocksen. We thought she'd go for more of a rocker sound. That may have served her better.
- Are they saving the best for last? Most Lakisha Jones' fans believe so.
- And so do we. It's a bold move to take on Jennifer Hudson right now, but Lakisha is up for the task - and stands out as the best among all 24 guys and gals as we head to the first round of cuts tomorrow ...
Matt Richenthal is the Editor in Chief of TV Fanatic. Follow him on Twitter and on Google+.