Well, they're at Media Day during the week before the Super Bowl.
Still, that's a place not many of us see. But here they are - one in a Colts uniform, one sporting a Bears shirt - American Idol rejects, Kenneth Briggs and Jonathon Jayne.
They've turned their disses from Simon Cowell into national stardom, as Jimmy Kimmel offered them this chance to interview NFL players before the biggest game of their lives; or, in some cases, to be interviewed themselves by members of the press.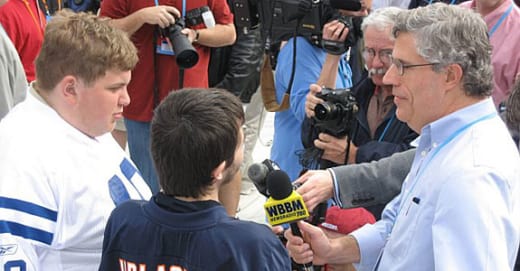 The future for Briggs and Jayne may not be as bright as that of Sundance Head, but at least they're having fun while it lasts.
Matt Richenthal is the Editor in Chief of TV Fanatic. Follow him on Twitter and on Google+.