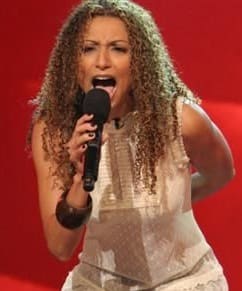 To be honest, we didn't think much about
Sabrina Sloan
before last night's tremendous audition.
FOX seemed to feature other contestants, such as Chris Sligh and Melinda Doolittle, a lot more than this semi-finalist. But the world pretty much knows Sloan now.
Maybe we shouldn't award the crown to Lakisha Jones just yet. Sabrina was sublime. Therefore, we wanted to share a few quick facts about this singer to help spread the word:
Not only does Sloan remember the age in which she began singing (three), she actually recalls that it was on top of a table at Chucky Cheese.
Asked to choose her own American Idols, Sabrina points to her mom. And Oscar nominee Jennifer Hudson.
She has a husband named Chip.
A week after the 9/11 attacks, Sabrina moved into a "cockroach-infested apartment to pursue singing."
Now THAT's dedication! The kind that will take you far in a competition such as American Idol. After last night, looks like viewers are beginning to realize that.
Matt Richenthal is the Editor in Chief of TV Fanatic. Follow him on Twitter and on Google+.