Jennifer Hudson is a great singer.
But she isn't the most thankful - or well spoken - person in the world.
While Simon Cowell believes Hudson should give props to her American Idol experience as she garners more and more attentions and awards, the star seems to have other ideas.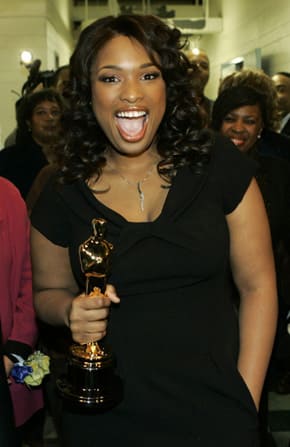 Hudson recently responded to Cowell's critique with a fairly non-sensical bit of logic: "If I'd been any better at my job when I was at Burger King in my middle teens I wouldn't be here either, so should I thank them too?"
We have a couple of response to Jennifer's attempt at making a point:
Sure, why not thank everyone that helped you along the way?
Are you really comparing a fast food job that has nothing to do with singing to the competition that was watched by millions and is the only reason anyone knew your name enough to consider you for Dreamgirls in the first place?
We're nout doubting the talent of Hudson - but countless performers have talent. But how many get noticed on a platform such as American Idol?
Meanwhile, the awards have continued to pile up for the singer. Hudson won entertainer of the year at the 21st Soul Train Music Awards - and seemed to mock Idol a bit during her speech:
"I just can't believe I got the Sammy Davis Jr. award! I'm standing on the same stage where I made the top 32 of American Idol."
Get off your bitter high horse, Jennifer.
Matt Richenthal is the Editor in Chief of TV Fanatic. Follow him on Twitter and on Google+.