Why does Rosie O'Donnell use her platform as host of The View for such misguided purposes?
She blasted American Idol before the season began because it supposedly took advantage of two special education contestants ... even though the Special Olympics actually lauded Simon Cowell for the way he handled these cases.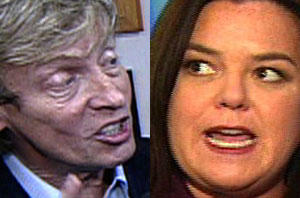 Now, Rosie has called the show racist and weight-ist because it has allowed
Antonella Barba
to remain, despite having kicked out Frenchie Davis for similar photos a few years ago. Apparently no one told O'Donnell that the top two women at the moment - Lakisha Jones and
Melinda Doolittle
- are African-American and not exactly thin.
Nigel Lythgoe, the series producer, responded:
"Without wishing to add to the obvious self-promotion of Ms. O'Donnell, I feel as though I must refute her absurd and ridiculous claims that 'American Idol' is racist and/or weightist.
"Ms. O'Donnell has, once again, spoken without thought or knowledge. Viewers need only look at the show tonight to realize that American Idol constantly confirms to America that talent has nothing to do with weight or color."
We agree completely.
Matt Richenthal is the Editor in Chief of TV Fanatic. Follow him on Twitter and on Google+.