The following article is courtesy of The Portsmouth Herald ...
TIME Magazine voted you its person of the year in 2006, and you're already showing off.
You and your fellow Americans have banded together - largely through the use of the Internet and other media - to shape the course of one of America's most popular television shows, American Idol.
Yes, the reality show - now in its sixth season - does voluntarily leave the voting power in the hands of its viewers. But never before has as large a number of viewers been compelled to pick the contestant they consider the least talented.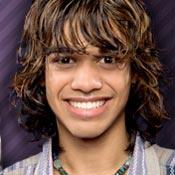 Over the past several weeks, millions of viewers have cast their precious
Idol
votes not for those largely considered to be most talented, but for 17-year-old
Sanjaya Malakar
. It's a trend that has prompted threats from the show's creator and judge Simon Cowell, who said he will quit if Malakar wins the competition.
So why are so many people casting their vote for a contestant who, strictly based on vocal talent, probably doesn't deserve it?
It could be any number of reasons, including a desire to belittle the show - or true affection for the contestant. But the point, according to UNH professor Josh Meyrowitz, is this: It's working.
"It's a flexing of the grassroots muscle," said Meyrowitz, a professor of media studies in the Department of Communications.
Meyrowitz linked the Idol phenomenon to a shift in power with relation to new media, the same shift that prompted TIME to name you its person of the year.
"It represents a use of this new power and an awareness of what it will actually work for," Meyrowitz said. "You want a candidate on or off American Idol; you can do it." The new media Meyrowitz refers to includes Internet sites such as votefortheworst.com, which encourages fans to vote for American Idol contestants the producers would hate to see win in an effort to derail the popular show. The site also suggests that keeping contestants like Malakar around makes for a funnier program.
Malakar has even been endorsed by radio show host Howard Stern, who's confessed he'd like to see Malakar win because he's the least talented of this year's finalists.
But despite the success of the movement to support Malakar, Meyrowitz said he is a little discouraged.
"I don't think it's the most mature application of the new technology," he said. "It's kind of a nasty manifestation of the potential."
While describing the media-generated power shift, Meyrowitz repeatedly returned to the image of a rebellious teenager.
"It's kind of like an adolescent saying to (his/her) parents, "You have no control over me,'" said Meyrowitz, who noted the American Idol trend may only be a sign of what's to come.
"In one sense, it represents a co-option of popular culture," he said. "On the other hand, it represents an infiltration of the public saying, "We're not going to let you decide.'"
Matt Richenthal is the Editor in Chief of TV Fanatic. Follow him on Twitter and on Google+.