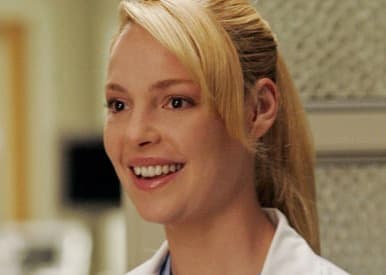 Scene: Morning.
Derek Shepherd awakens in bed next to fellow doctor Meredith Grey.
The lovely Izzie Stevens bursts in - wearing only a towel, of course.
She complains, naturally, about another doctor (Alex Karev) who just walked in on her in the bathroom.
Dr. Ben Gbulie, chief resident at Howard University Hospital in Washington, D.C., is incredulous, according to the Washington Post:
"Do you realize there is one attending (doctor) and three residents in the same bedroom right now? In the morning?? And one of them is half-naked?!"
Gbulie and other real-life interns and residents have gathered to watch an episode of ABC's hit medical drama, Grey's Anatomy.
The show's interns at fictional Seattle Grace Hospital practically all live together in one big house, where bed-hopping is a sport.
"Um, noooo, my life isn't really like that," Gbulie said.
The residents and interns in orthopedic surgery, ophthalmology, podiatry and general surgery who wander in are all on-call, many of them 15 hours into their shifts.
Amid their harried work lives, it's not easy to be a regular watcher of Grey's Anatomy, but they're likely - even from casual viewing - to know more personal details about the characters on Grey's Anatomy than one another.
Grey's Anatomy is the nation's most popular non-reality program (American Idol is tops overall). Emphasis on "non."
"It's not about the medicine," sixth-year resident Vanessa Ngakeng said. "It's entertainment. Sleep with an attending? No way."
In real life, Patrick Dempsey, who plays Dr. Shepherd, and his wife just had twins. Chandra Wilson (Dr. Bailey) won a Screen Actors Guild award.
"Which one is Bailey?" Gbulie asks. She's the one known as "the Nazi," he's told. It's the character closest to himself, a late-year resident, shepherding the interns.
Judging from room reaction, Miranda Bailey a favorite character because, unlike the attendings who are too busy sleeping with their charges, she keeps the interns in check.
The group's response gets livelier as the show progresses.
So, unlike George O'Malley, real interns wouldn't get to scrub in on an appendectomy on their first day of residency?
"The first day, you don't even know how to hold a scalpel," Ngakeng said.
And all the show's back-talking of superiors?
"The way they talk to the attendings is just wrong," podiatrist Dr. Michangelo Scruggs said.
How about dating a patient?
"The thing is, after seeing a patient in a certain way, I don't want to see anything else," Scruggs said. "But I deal with feet."
Many lascivious scenes later, Dr. McDreamy - a neurosurgeon - has to open up a patient and perform something a cardiothoracic surgeon actually would do. The room is riveted.
Gbulie: "He's aspirating ... That's good TV!"
The residents agree that the terminology and medical procedures are pretty accurate. Usually.
But then there are TV "sweeps" months, when good ratings are a must and the writers get carried away. Like, an intern gets to drill holes - with an industrial drill - into the head of a patient trapped under a car because of a ferry accident.
Among the interns, three of the show's story lines were voted the most entertaining:
No. 3: Code Black! There's live ammo in a patient's body, Meredith's got her hands on it, and unless the hottie-hot bomb squad guy can disarm it, the whole operating room might explode!
Gbulie: "That's not comparable with real life, but I thought it was a beautiful story."
No. 2: Izzie cuts the (incomprehensible medical acronym alert!) LVAD wire! Izzie endangers her patient (and fiance) by cutting the wire to his heart pump in order to make him "sicker" - so he'll move up the transplant list. And she doesn't get fired!
No. 1: Meredith rises from the dead! Meredith drowns, McDreamy pulls her from the waters. Then, miraculously, she comes back to life in "Some Kind of Miracle" and immediately begins talking in that whiny voice of hers (which was inexplicably unaffected by having had a tube down her throat while she was ... did we mention she was dead?).
Steve Marsi is the Managing Editor of TV Fanatic. Follow him on Google+ or email him here.