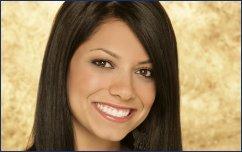 The drama on the 10th season of
The Bachelor
continues to heat up... heck, it's hotter than the
Jennifer Toof sex tape
. That's saying
a lot
.
We've seen the departure of Alexis Young, Peyton Wright, Stephanie Wilhite and other aspiring trophy wives. This week, another bachelorette sealed her own fate during a visit by Andy Baldwin to her hometown.
Yes, Amber Alchalabi, a.k.a. "Ambie" (pictured), was one of our favorites to go all the way (if you know what we're saying), but shot herself in the foot by having an estranged family and a weird-ass roomate.
Thus, the final threesome (heh, heh) of Bevin Powers, a.k.a. the Ankle Faker, Tessa Horst and Danielle Imwalle will now compete for Andy Baldwin's heart.
Once again, ESPN.com's Sports Gal (wife of ESPN's Sports Guy, Bill Simmons) has recapped the drama. Follow the link to continue reading The Scoop's complete guide to last night's gripping episode of The Bachelor …
Matt Richenthal is the Editor in Chief of TV Fanatic. Follow him on Twitter and on Google+.