One of the remaining three women on The Bachelor: Officer and a Gentleman has reportedly revealed that she's the woman selected by Andy Baldwin.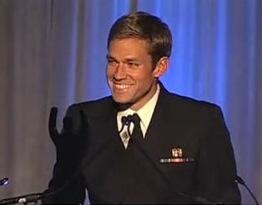 Currently in the running are Bevin Powers, Danielle Imwalle, and Tessa Horst. One of those three women "had a few drinks the other night and spilled the beans," according to the New York Post's Page Six.
The lucky girl said she won and revealed the current status of her relationship with Andy Baldwin.
Follow the jump to continue this Bachelor spoiler ...
That woman is
Tessa Horst
, and the
New York Post
"spy" says "he proposes and she declines, but they are still very much together."
Interestingly, someone who hoped the two would end up together created a video of them from The Bachelor to highlight their chemistry - footage from the show, set to "Up Where We Belong" from An Officer and a Gentleman.
Gag. Baldwin winnows the field to two Monday, May 14. The winner - Tessa Horst or no Tessa Horst - will be officially revealed on the season finale, airing May 21 from 9-11 p.m. ET.
Incidentally, the Scoop would like to note that its staff picked Tessa Horst to win it all in its preview of the Bachelor final four.
Matt Richenthal is the Editor in Chief of TV Fanatic. Follow him on Twitter and on Google+.