The U.S. Navy has given its country six presidents — five of them in a row, from Kennedy through Carter — but even the guardian of the world's oceans fell short of producing an American Idol Wednesday night.
Musician 3rd class Phil Stacey, a chrome-domed crooner stationed with the Navy Band in Jacksonville, Fla., learned viewers hadn't given him enough votes to advance to the next round of competition, meaning that his appearance on Wednesday's episode was his last in the regular contest.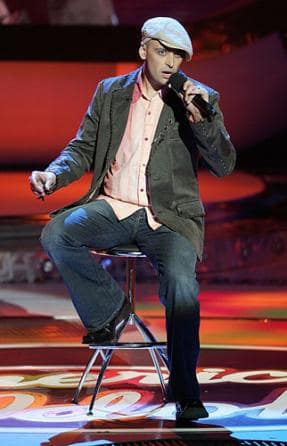 Stacey will almost certainly reappear at some point on a future Idol, and is expected to
tour
with the summer-concert version of the show. The franchise recycles its alumni in inspirational sessions for new contestants, and invariably takes credit for "discovering" any and all its castoffs who make good elsewhere in the entertainment game.
And what a way to go — Stacey promised on Tuesday's episode that he would go out in a blaze of glory when he sang Jon Bon Jovi's 1990 solo single, "Blaze of Glory." Judges Randy Jackson and Paula Abdul both ranked the song among the sailor's best performances, and there was nary a dry eye in the Idol studio as he reprised it Wednesday; he put his arm around two uniformed sailors in the audience and kissed his wife, Kendra.
A farewell video showed Stacey with his baby daughter McKayla, whose birth he missed to be on Idol. His whole bid to succeed on the show, he said, was for his two daughters.
By reaching the top six, Stacey did better than the overwhelming majority of "American Idol" aspirants. He auditioned with tens of thousands of other hopefuls in October, and wasn't even this season's only Navy performer to draw screen time. The first, Jarrod Fowler, a 28-year-old intelligence specialist second class aboard the carrier Ronald Reagan, was a musical amateur who performed in uniform and was made the subject of a special video package along with his ship. But Fowler was cut before the season's live voter-elimination episodes started, and Stacey stayed alive for 11 of them.
Stacey's American Idol career began as a debt to a buddy.
Stacey's mother, Andrell, a nurse in Smyrna, Tenn., told The (Nashville) Tennessean on April 11 that Stacey had agreed to sing at his friend's wedding, but that when he couldn't make it, the friend told Stacey the only way he could make good was by auditioning for American Idol in Memphis, which he did.
The rest is history.
Week after week, Stacey's Idol odyssey was a nail-biter; he swung wildly in and out of judges' and voters' favor. Four times, and for at least two consecutive weeks, the sailor was among the show's lowest vote-getters, but each time, television-watchers ended up eliminating one of his competitors.
Over his Idol tenure Stacey outlasted judges' darlings, such as gravel-voiced Sundance Head and rocker-chick Gina Glocksen, and he also skated ahead of less capable performers, such as Haley Scarnato, whose appearance pleased voters, but not her voice.
And, of course, Stacey also bested national laughingstock Sanjaya Malakar, the game-changing oddball contestant whose endurance far outstripped his talent on "Idol."
Stacey's immediate future is unclear. The Navy said in March that he was given temporary assigned duty in Los Angeles to be on Idol, but there was no indication this week whether he would stay there, return to his Navy Band gig in Jacksonville or try something else.
The sailor's older brother, Keith, told the Florida Times-Union newspaper that he thought Phil's Navy hitch might be up in October.
Wichita Eagle columnist Denise Neil reported on March 25 that Stacey aspired to move to Memphis with his wife, Kendra, and pursue a recording career. Neil quoted Kendra's best friend, Miranda Rice, who has been visiting the Staceys in Los Angeles. Idol judge Randy Jackson told Stacey several times on American Idol he thought the sailor could sell records as a country singer.
Matt Richenthal is the Editor in Chief of TV Fanatic. Follow him on Twitter and on Google+.