With America's Got Talent dominating the ratings, it looks as though Sharon Osbourne made the right decision to join the reality show as a judge.
How is the experience going so far? TV Guide asked Osbourne a series of questions on the topic recently...
TV Guide: How do you feel about replacing Brandy as a judge on America's Got Talent?
Sharon Osbourne: I do not feel I am replacing Brandy. She is a gorgeous girl. I am old enough to be her grandmother.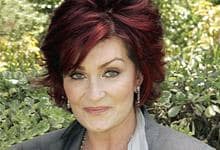 TV Guide
: Before the second season of
America's Got Talent
even premiered, there were rumors flying about feuds. Is it true you walked off the set the first week?
Osbourne
: Yeah, I did. It was a day where there was one young contestant after another. [Fellow judge]
Piers Morgan
has a definite dislike for children or younger artists. It was appalling behavior. I just couldn't take the way he was talking to them. And it was not just the children â€" he was being particularly appalling to everybody that day. I just had it. I was ready to scream.
TV Guide: So then you left. How far did you get?
Osbourne: I ripped up all my papers for all the contestants for that day and the next. And then I stormed off to my dressing room, took off my suit and was like, "Get the car â€" we are going home."
TV Guide: And then what happened?
Osbourne: The director got [executive producer] Simon Cowell on the phone. Simon is always the voice of reason. He had his entrepreneur's hat on, and he said, "You have got to be professional. You signed a contract here, and you could really get into a lot of trouble. You have worked with worse people in your life. You can handle this."
TV Guide: Did you then return to the set?
Osbourne: No. I sat down and phoned my husband and my kids, and had a little a cup of tea. Ozzy is a fan of the show. So he said, "Oh, I want to go to the finale." [Son] Jack said, "Mom, [Piers] would love to get rid of you. If you quit, he gets his way."
TV Guide: What's with the animosity between you and Piers? Have you tried to work it out?
Osbourne: I never sat down with Piers, just the two of us. Nor would I. I talk to him about what we are doing, but in between contestants there is no communication. It is not that we don't get along, it's that we just don't have any sort of relationship. I wouldn't hang out with him or go have a cup of tea.
TV Guide: What was the mood on the set like after that video surfaced showing judge David Hasselhoff drunk, eating a hamburger on the floor?
Osbourne: Obviously David was very upset and we were very upset for him. It was very unfair. The man didn't do anything wrong. How many people do we know who have been drunk in their own homes and done silly things? The man did not hurt anybody. He was not abusive. So what if he was drunk?
TV Guide: What did you say to him that day?
Osbourne: Hey, we are all behind you. You did nothing wrong. None of us is perfect.
TV Guide: In the midst of all the drama, you did manage to judge the new acts. Who was the strangest?
Osbourne: You see complete extremes of talent on this show. There was a ventriloquist woman singing with her mouth closed. She never moved her body, just stood there like a statue singing. It was ridiculous. We also had a guy who was running on a treadmill, making a drink with eggs and fruit in a blender, and painting â€" all at the same time. When he came flying off this treadmill, paint went on the floor.
Matt Richenthal is the Editor in Chief of TV Fanatic. Follow him on Twitter and on Google+.