As Taylor Hicks continues his summer tour, he made time for the following interview...
Julie Greene: Welcome, everyone, to this podcast for Antpod.com and HMLoop.com. This is Julie Greene with The Herald-Mail newspapers. We're talking with "American Idol" season five winner Taylor Hicks, who is currently on tour and will be performing at The Maryland Theatre in downtown Hagerstown on Friday, July 6. Taylor, welcome and thanks for joining us today.
Taylor Hicks: Thanks for having me.
Greene: Other than the popularity, what is the main difference between being on tour pre-American Idol versus post-American Idol?
Hicks: The budget's different.
Greene: And how does that affect ... ?
Hicks: It's allowing me the label. ... It's a different type of level that you can be able to have more utensils to get your art across.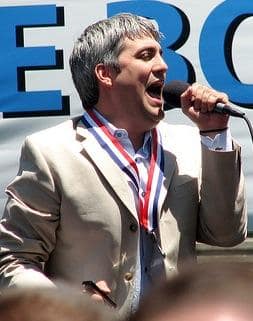 Greene
: People who watched
American Idol
know you were a working musician before the show. How did your interest in music begin?
Hicks
: I was about, I don't know, 7 or 8, and started listening to Otis Redding and Ray Charles, and a lot of AM stuff. ... The '70s were great for AM singer-songwriters. I followed the path and luckily, you know, picked up an instrument, a guitar ... and started working my way through learning my craft - and still learning my craft.
Greene: Have you had a chance to write some new songs?
Hicks: You know, I've started on some ideas, and you know, going right back out for the summer tour, it's been ... tough, you know, to get in the writing process. I'm taking some time off in the fall and gonna really try to get some good songs going.
Greene: I wanted to ask, what's on your iPod right now?
Hicks: Leo Sayer, from the '80s. Some Ronnie Milsap, some Derek Trucks ... just, you know, all kinds of different people.
Greene: Going back to American Idol, how does it feel to be a part of a cultural phenomenon like American Idol?
Hicks: It's very interesting. I'm very blessed that I was able to get through and, you know, expose my singing ability and have it be received in the way that it has. ... It's been great. I've enjoyed it. I've enjoyed it. I've enjoyed the ride, and I'm out here trying to make the best of the music."
Greene: Do you watch the show?
Hicks: I do watch it. I watched a little bit last season. I was very happy to see Jordin Sparks and Blake Lewis be in the finals, and I was happy for Jordin, who won it.
Greene: What did you think about Sanjaya Malakar making it to the finals for season six, despite his not being well-received by the judges?
Hicks: I think. definitely. Sanjaya was a visual performer.
Greene: Did you vote for anyone from season six?
Hicks: We did a few - we did some voting here and there. We voted for Blake one night and Jordin the next. We just, we kind of just, we had fun with it, just like everybody else has fun with it.
Click here to read the full interview.
Matt Richenthal is the Editor in Chief of TV Fanatic. Follow him on Twitter and on Google+.