VoteForTheWorst.com which sprang to fame by supporting some of the more vocally challenged singers on American Idol has now set its sites on America's Got Talent.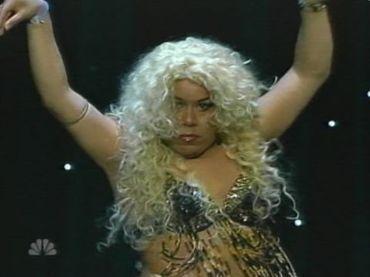 Just like American Idol 6 viewers, America's Got Talent 2 viewers are scratching their heads in utter confusion and disbelief over some of the talent that the judges have put through to the viewer voting rounds.
One of the acts generating the most controversy is Boy Shakira, a male impersonator of Shakira. For his act, Boy Shakira doesn't sing but merely dances around the stage rather badly. When Sharon Osbourne and Piers Morgan decided to put Boy Shakira through to the next round during the Chicago auditions, David Hasselhoff was so agitated that he walked off the set.
What at first appeared to be a rather amusing joke on the Hoff has now progressed much further than that. During the America's Got Talent 2 Las Vegas callbacks, the judges actually put Boy Shakira through to the top twenty. From David Hasselhoff's facial expression, it appeared that this was once again the decision of Osbourne and Morgan and not him.
Many viewers posted their outrage on both Reality TV Magazine and on NBC's official America's Got Talent message board over the judges keeping both Boy Shakira and also Bollywood dancer Kashif over other contestants that viewers believed were more talented. Given the sheer volume of negative comments posted to Boy Shakira's video on the NBC website, it's hard to believe that Osbourne and Morgan were serious in putting him through to the top twenty.
Many viewers are expressing the opinion that this was a blatant ploy by the judges and the producers to create a Sanjaya-like phenomenon for America's Got Talent.
Sanjaya's run on American Idol helped to hold the media's attention in an American Idol season that was a letdown from the previous season. If not for Sanjaya, American Idol 6 would likely have taken a much larger dip in the ratings. Did America's Got Talent judges and producers purposefully conspire to put through some untalented contestants in hopes of making Sanjaya ratings magic?
If they did, then it seems to be going according to plan with VoteForTheWorst.com taking up the cause. One can only wonder when the hunger strikes will begin.
Matt Richenthal is the Editor in Chief of TV Fanatic. Follow him on Twitter and on Google+.