There was a scare on America's Got Talent last night.
Ivan the Urban Action Figure, who had dazzled the judges with his acrobatics during the auditions, took a terrible tumble that left him motionless on the floor.
As part of his grand entrance, attempted to use a small trampoline to propel himself over several chairs. However, the trampoline appeared to slide out from under him, and he wound up flipping head first into the chairs. When the man landed, he laid motionless on the floor. At first the crowd and judges seemed to think it was part of the act, but then part of the production staff rushed out to the floor and closed the curtains.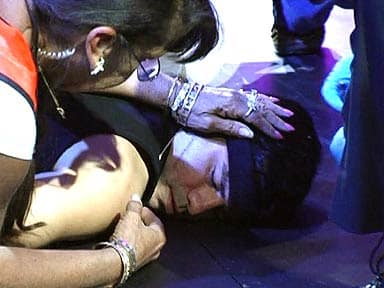 Host Jerry Springer explained: "This was not supposed to happen apparently. The question is whether or not he landed on his head. At first everyone thought 'oh, that's part of the act.' It's not part of the act. He's lying still. I don't see any movement at this point. This is a horrible moment."
Ivan the Urban Action Figure was unconscious for a couple minutes, but he finally came around and appeared to be ok. As a precaution, emergency personnel fitted him with a neck brace and carried him away by ambulance to the hospital for tests.
After the performer was whisked away, Springer told the audience "We have thankfully good news. Ivan the Urban Action Figure took a fall, but now he's up and he seems ok. We're going to take him and make sure that everything is physically ok, but he's talking, he's lucid."
Matt Richenthal is the Editor in Chief of TV Fanatic. Follow him on Twitter and on Google+.