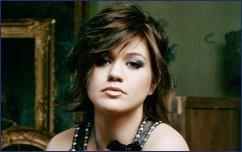 Take that, Clive Davis!
While the head of RCA was not a fan of Kelly Clarkson's new CD, "My December", fans of the original American Idol appear to feel differently.
"My December" debuted at No. 2 on The Billboard 200 weekly album sales chart, according Nielsen Soundscan figures for the week ending July 2.  Clarkson's third album - the first in which she either wrote or co-wrote every song - sold 291,000 copies in its first week of release.
Clarkson's album trailed only "Hannah Montana 2 (Soundtrack)/Meet Miley Cyrus," two-disc 20-set set that combines Cyrus' debut album with music from the Disney Channel TV show that the 14-year-old stars in.  Cyrus -- the daughter of country singer, Hannah Montana co-star and fourth-season Dancing with the Stars participant Billy Ray Cyrus -- sold 326,000 copies in her album's first week of release.
"My December's" debut week sales surpassed those of "Breakaway," Clarkson's Grammy-winning 2004 second album that has since sold over 10 million copies.  "Breakaway," which was released during the more competitive holiday season sales period, debuted at No. 3 and sold 250,000 copies in its first week of release in November 2004.
Although it beat "Breakaway's" debut, "My December" fell just short of setting a debut week album sales record for Clarkson.  "Thankful," the original Idol winner's debut album, debuted at No. 1 and sold 297,000 copies during its first week of release in April 2003.
Matt Richenthal is the Editor in Chief of TV Fanatic. Follow him on Twitter and on Google+.