Standing outside Texas Stadium with thousands of other "American Idol" hopefuls Monday, LaCondra Davies knew she was bound for Hollywood. Again.
"I know the game now," said Davies, 29, to MSNBC who was booted from the show last season after making the first cut. "You can't give them everything at once."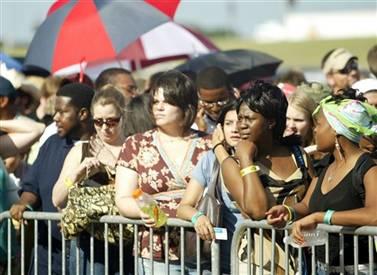 At they resumed auditions Monday for the seventh season of American Idol, producers from the Fox ratings juggernaut gave about 15 seconds to each of the of would-be singing stars who turned out. Last week in San Diego, more than 12,000 people showed up when the show kicked off its seven-city casting call.
Producers shied away from estimating the size of the horde that ascended on Texas Stadium, but the line stretched as wide as 30 people and snaked around a fourth of the building.
They sang (though not always well), stood and sometimes wilted under a stifling morning sun in the parking lot as they waited to get inside. Ice packs were given to some who struggled with temperatures that climbed past 90 degrees.
Dallas has proven fertile ground for Idol talent before. Kelly Clarkson, the first and most successful winner, is from the neighboring suburb of Burleson. Nikki McKibbin, who finished third to Clarkson, is from nearby Grand Prairie.
Patrick Stephens, 23, said he auditioned in Birmingham, Ala., last year only to file out "like a loser." His approach Monday was more laid back as, like scores of others, he fiddled with an iPod — not rehearsing songs but instead watching videos of standup comedy.
"I don't have an interesting back story if I get picked," said Stephens, a technical recruiter from Plano.
Matt Richenthal is the Editor in Chief of TV Fanatic. Follow him on Twitter and on Google+.