Here is a closer look at what you can find on the Heroes Season One DVD (on sale tomorrow!)...
Extended Pilot with Optional Commentary: This version of the show's pilot runs 73 minutes and includes several extra plotlines. In addition, scenes from the aired pilot sometimes get cut in this version, which was put together by creator Tim Kring. It's very different, even to the point of having another actor playing Sylar (and we're glad that went with Zachary Quinto). There's also a commentary with Kring, who outlines the changes and gives some anecdotes.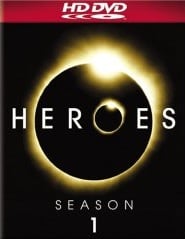 Video Commentaries (HD DVD Exclusive Feature)
: Universal offers picture-in picture commentaries on eight of the season's 23 episodes (for the curious, they appear on "Godsend," "The Fix," "Distractions," ".07%,", "
Five Years Gone
," "The Hard Part," "Landslide," and "How to Stop an Exploding Man"). These commentaries feature many of the show's cast and crew in rotation. Personally, I quite enjoyed all of these, as it's clear that everyone is really excited about being part of the team and have some good things to say.
U-Control (HD DVD Exclusive Feature): This is Univeral's interactive feature that they have included on many of their high profile releases. Often, we get a lot of fluff and little substance, but that's not the case with Heroes. Probably the coolest U-Control feature is the ability to take a closer look at any of Isaac's paintings. This is really cool, as you can zoom in while you're watching the episode. Considering how vital these paintings are to the series, it's a great way to go more in-depth.
There's a "Character Connections" chart which is more useful than it sounds. Each episode, a few of the characters from each area interact with each other, many of them unaware that they are doing so. This feature charts their meetings in a way that resembles the map made by "Papa" Suresh, with intersecting lines criss-crossing around. Considering how often the characters bump into each other, I found this to be very useful indeed. The final aspect is also the least interesting. Throughout the show, a Helix symbol appears (it's most easily noticed on the cover of the book "Activating Evolution," as well as Jessica's shoulder) and this feature points the symbol out every time it shows up.
Web Enabled Content (HD DVD Exclusive Feature): All HD DVD players are required to have an ethernet connection, which is how Universal is able to put web content on the Heroes HD DVD set. There are two sections to this. One is a "Genetic Abilities Test," which asks you questions and then determines if you too have special abilities (more likely than not it will tell you that you have them). You can then register your powers and your profile online for others to see.
The other part is a download area, which currently has a trailer for Heroes Season One and the upcoming Universal films Talk To Her and White Noise 2. But Universal has promised that more content will be made available in the future. As to whether or not that actually pans out, only Isaac knows.
Deleted Scenes: Most of the episodes contain deleted scenes, some of which are just a few lines of dialog, but others are very substantial and would have done well if included in the actual broadcasts. A mixed bag, but worth going through for the best scenes.
Making Of: Here's where the supplements start to whittle down. This featurette is 10 minutes and it's just fluff, especially if you've gone through the commentaries and Unaired Pilot.
Special Effects
: This extra gives us an idea of how little time the effects people had to work on any given episode, which makes the end results look even better in my eyes (and the few less than stellar shots become much more forgivable).
Stunts: 10 more minutes about the stunts, with some interviews and behind the scenes footage on some of the key action setpieces.
Profile of Artist Tim Sale: Considering Jeph Loeb was an executive producer on Heroes, it shouldn't be much of a surprise that his longtime collaborator Tim Sale was brought on to do the artwork for Isaac's paintings. This is easily the best of the featurettes; it's all worth hearing.
Mind Reader: A rather pointless game where you pick some of the show's heroes and Matt Parkman tries to guess which ones you've chosen.
The Conclusion: Heroes rightfully deserved to be a mega hit. It's got everything you need for good television: Identifiable characters, excellent plots, humor, drama, and super powers. The series' few flaws aren't bad enough to turn people away, but the image quality on this HD DVD might.
The transfer is maddeningly uneven, going from very good to downright awful and back again. Luckily, Universal has eased the pain by stuffing this seven-disc set to the brim with features, many of them exclusive to the HD DVD version.
Matt Richenthal is the Editor in Chief of TV Fanatic. Follow him on Twitter and on Google+.