It's predicted to win its time slot, and many critics call it a safe bet to last at least a full season. But Joanne Ostrow of the Denver Post is not as sure, calling Private Practice a medical emergency that might not be able to be stabilized.
Last spring's two-hour "back-door pilot" introducing the spinoff series for Dr. Addison Montgomery's (Kate Walsh) character was harshly panned by many.
As a result, creator Shonda Rhimes wanted a do-over.
What you saw wasn't really the pilot for the new show, Private Practice, she told critics, it was an introduction to these new characters as "the first true episode" of Private Practice is the one airing Wednesday at 9 p.m.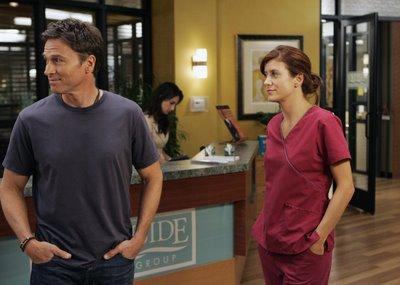 Addison Montgomery (Kate Walsh) and Pete Wilder (Tim Daly).
Rhimes earned our trust, so we were hopeful for "In Which We Meet Addison..." - yet now we're standing by with the paddles, watching it flatline. Clear!
As self-consciously precious as the episode title, the tone of the spinoff takes a sharp turn away from Seattle and Grey's Anatomy.
In Los Angeles, red-haired Addison has somehow morphed from a self-assured, aloof surgeon into a ditzy sitcom babe, Lucy Ricardo with a scalpel.
The character made more sense when she was an ice queen.
The producers recognize Kate Walsh's stunning presence as the show's best asset, and overdo the point. The accomplished M.D. spends a good portion of the hour dancing out of the shower naked in front of a window. Naturally, one of her new medical colleagues is watching from next door.
In this critic's opinion:
Grey's Anatomy is a silly soap with great characters in constant crises, a show that tests our patience, but we care about the dynamics.
Private Practice is a ridiculous soap with idiotic, annoyingly impossible characters in outlandishly implausible crises.
It outwears its welcome before the first episode, "In Which We're Ready to Give Up on Addison, a Reinvented Character From Another Show."
Then again, at least Shonda Rhimes got rid of the talking elevator.
In her love life, Addison seems to be heading from McDreamy and McSteamy to McHolistic in the character of Dr. Pete Wilder, played by Tim Daly.
Pete is a cocky alternative medicine doctor whose wife died eight years ago and who hasn't connected with a woman since. On the other hand, nobody should be surprised to see Addison partying with the wellness center's surfer-boy assistant who wants to be a midwife, either.
Audra McDonald is a terrific vocalist, stretching her melodrama abilities here as Dr. Naomi Bennett, formerly married to Dr. Sam Bennett, played by Taye Diggs.
Diggs' role seems to be centered primarily on wearing form-fitting shirts. Amy Brenneman is the psychiatrist who magically resolves long-standing illness.
Private Practice has less to do with medicine than Scrubs. Occasionally, when a real emergency happens, the scene shifts to a hospital.
Otherwise, it's about the variously stuck, lonely and tangled private lives of the practitioners. ABC was betting it couldn't lose by giving viewers a double dose of Grey's Anatomy each week. Instead, there are counter-indications.
Warning: Side effects may include nausea and  derisive laughter.
Steve Marsi is the Managing Editor of TV Fanatic. Follow him on Google+ or email him here.