Coming up on The Young and the Restless - specifically on October 19 - the level of drama intensifies on TV's top-rated soap opera.
The long-running daytime drama delivers a week loaded with immense suspense and a few mind-blowing twists that will change some of the characters' lives forever.

Read on for more spoilers on The Young and the Restless.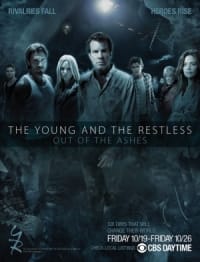 The Clear Springs plot, which has become one of the central angles on The Young and the Restless, will reach its climax this Friday when a shocking tragedy strikes at the spa, resort and upscale shopping center that has been a source of contention between the Newmans and Jack Abbott (
Peter Bergman
).
Due to faulty construction, the building crumbles to the ground, trapping many friends and enemies, and threatening the lives of both families.
As the wounded are pulled out from the rubble, lives remain in peril and rivals are forced to unite and bystanders perform heroic measures.
The cast and crew of The Young and the Restless, including stunt professionals, have put in great efforts to make this tragedy realistic. In fact, the scene used a set with a bigger soundstage than usual, including more than 50 extras.
The exciting episode leads to an important question, of course?: Who survives the catastrophe?
Victims whose lives may or may not be on the line include Jack and Sharon (Sharon Case), along with her ex, Nick (Joshua Morrow), who are all trapped together.
Meanwhile, JT (Thad Luckin-bill) and Cane (Daniel Goddard) are caught underground with the elderly, while Lauren (Tracey Bregman), Paul (Doug Davidson) and Maggie (Tammy Lauren) await rescue as they tend to an injured child.
Here's a preview of that episode:
[youtube]http://www.youtube.com/watch?v=BtSp_dF7Fr4&eurl=http%3A%2F%2Fwww%2Ebuddytv%2Ecom%2Farticles%2Fthe%2Dyoung%2Dand%2Dthe%2Drestless%2Fmassive%2Dspoilers%2Dfor%2Dthe%2Dyoung%2D12419%2Easpx[/youtube]
Matt Richenthal is the Editor in Chief of TV Fanatic. Follow him on Twitter and on Google+.