This Patrick Dempsey article appears in the new issue of Best Life Magazine. This is the beginning of the article. Follow the link to continue reading ...
~~~~~~~~~~~~~~~~~~~~~~~~~~~~~~~~~~
Patrick Dempsey cut me off on La Cienega Boulevard.
His 3-series BMW convertible was in my rearview mirror long enough for me to recognize the actor's face from his just-released film Coupe de Ville.
At the intersection of La Cienega and San Vicente â€" a tangle of competing traffic lanes well known to Los Angeles body shops â€" he hit the gas and nipped in ahead of my bumper, forcing me to tap the brakes and watch his taillights speed north.
Now, 17 years after the fact, Patrick Dempsey sits under the cold fluorescent lights in the cafeteria of the Petersen Automotive Museum, about half a mile from the scene of the infraction, pleading guilty with an explanation.

Patrick Dempsey always feels the need for speed.
"Oh, that's funny," he says sheepishly. "I did have a BMW convertible." He then gives a slow spin to his cup of coffee and looks up.
"Well," he says, "if I drive aggressively, I try to signal, so people know. It's irritating when people drive aggressively and they don't signal."
Patrick Dempsey is no stranger to aggression.
As a teenager growing up in Maine, Patrick was a state champion downhill skier who once trained for a place on the Olympic team.
Today, his favorite method of relaxation, when he's not watching the Speed Channel, is driving pumped-up Mustangs and Mazdas up to 160 miles an hour.
On the streets of L.A., he can be seen riding his Specialized Tarmac road bike, putting in 100 miles in a good week, he says â€" and then hitting the gym. And of course, on the TV series
Grey's Anatomy
, which has given him financial freedom and more fame than he's comfortable with, he plays Dr.
Derek Shepherd
, the most aggressive of specialists in the medical profession: a brain surgeon.
Dempsey has agreed to meet at Petersen's â€" better known in certain quarters as the scene of Notorious B.I.G.'s last earthly party than for its collection of classic automobiles â€" because he loves fast cars and racing history.
When I arrive, he is already here, unaccompanied, at the Ferrari exhibit, studiously looking at a car called the Dino. Dempsey explains how the model was named by father Enzo for his son Alfredino, who'd helped him design the V6 engine.
When his son died of muscular dystrophy at age 24, the elder Ferrari made this car a tribute to his son. "Enzo wanted them badged only as Dinos," says Dempsey. "Technically, it's a Fiat, but a very special car."
Dempsey rattles off the specs and story behind each of the 10 or so cars in the exhibit, knowledge he conveys unpretentiously and sotto voce as we stroll. Before we sit down to talk, he tosses in the histories of a couple of low-slung Fords.
For a guy who struggled with dyslexia and never finished high school, Patrick Dempsey has ­managed to become a walking encyclopedia of model numbers, horsepower, and torque. He turned pro in 2005, becoming part owner and driver for a sports-car endurance-racing team.
This is a passion that he has been better able to indulge since his celebrated comeback from obscure '80s actor to Dr. ­McDreamy. So, it's impossible not to ask a gearhead whose weekly paycheck recently went up to $200,000: What's in your garage?
"I recently bought a 1954 XK 120 SE, which is sort of, I think, the defining postwar Jag," he says. "Really an old-school elegance to it."
Dempsey talks that way, really, imparting a natural sophistication to even a tech-heavy conversation. He sounds a bit like a courtly millionaire about to be handcuffed for killing his mistress on Law & Order.
But Patrick Dempsey, with his black-Irish good looks and laid-back â€" if alert â€" personality, is not that sort of lady-killer.
Those who have worked closely with him, from race-car drivers to directors, tell me he is simply an old-school gentleman. He endures the publicity process attached to fame with a certain mellowness.
Or maybe he's just a touch bleary from a combination of 14-hour shooting days on Grey's Anatomy mixed with film acting jobs. He's starring in a fresh take on the Disney movie tradition, Enchanted, in theaters now, and he spent the summer in England filming Made of Honor, in which he has a leading role.
On weekends, he flies all over the United States, keeping his auto-racing team in active competition. Most important, however, he has the duties and pleasures of helping his wife, Jillian, raise their twin boys â€" Darby and Sullivan, born in February 2007 â€" and their daughter, Talula, now 5.
Continue reading this Patrick Dempsey article in Best Life Magazine ...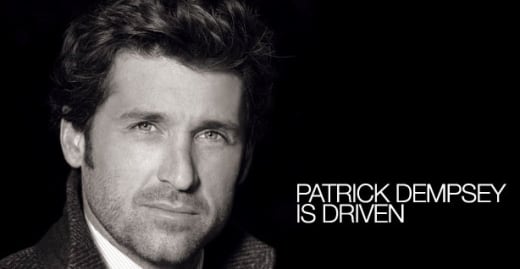 Steve Marsi is the Managing Editor of TV Fanatic. Follow him on Google+ or email him here.