On yesterday's Days of our Lives, Bo was released from the hospital, despite a lack of a diagnosis.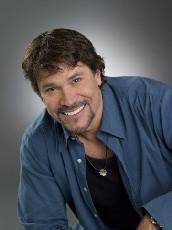 Later today, fans will find out what's truly wrong with this longtime character. Actor Peter Reckell, who originated the role in 1983, shared his own thoughts about the current storyline.
(Warning: Days of our Lives spoilers ahead)
"There's something wrong with his pancreas, but they can't figure out what it is," Reckell told The New York Daily News after explaining that although Bo managed to make it through yesterday's funeral, he collapsed during the wake held at the Brady pub.
Reckell added that he isn't as nervous about being let go from Days of our Lives as he could be, despite the fact that his character might die.
"If it was pancreatic cancer, we would know Bo isn't going to make it because you don't survive pancreatic cancer," he said.
Reckell also revealed that Bo's pancreatic illness has been written as the result of the "motorcycle crash that [also] broke his collarbone. So they have a whole bunch of things that they're throwing out there."
Another looming question on Days of Our Lives: Who will take over the family pub now that Grandpa Shawn is gone?
"Max steps in, and Ma's running things, but I'm not sure they have decided who's going to take over," Reckell said.  "Maybe it'll be Bo, because police work will be too strenuous on his health."
Matt Richenthal is the Editor in Chief of TV Fanatic. Follow him on Twitter and on Google+.